Scenic USA - New Mexico

City of Rocks
---
---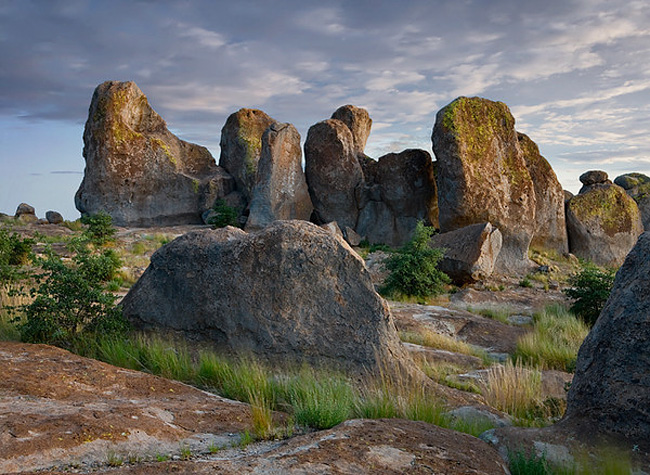 Undetected by a casual glance, the majority of New Mexico's landscape and distinctive landmarks have been created by some of the country's most active volcanic lava flows. Ranging from the lone volcanic neck called Shiprock Peak, to the broad Gila Mountain Range, New Mexico's volcanic activity has occurred as recent as 3800 years ago.
   Here in the Mimbres Valley of the Chihuahua Desert, the City of Rocks State Park features are composed by well eroded volcanic ash that was formed 35 million years ago. Rows of welded tuff (Kneeling Nun Tuff), shaped by the wind, rain and frost, take on the quasi form of houses in a city block.
   One of New Mexico's 35 state parks, The City offers its visitors a few geological secrets, fresh outdoor adventures and plenty of wildlife sightings.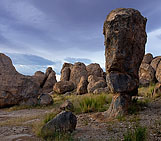 The City of Rocks State Park is also one of only six places in the world with these types of rock formations. Here, 62 campsites are scattered among the rocks where visitors can sit out among the lines of city streets, follow the paths of roadrunners, javelinas and jackrabbits, sleep under a star-filled sky, or take in the park's botanical garden. People have been camping among these rocks for thousands of years. Along with ancient arrowheads and pottery shards, modern era Spanish explorers once carved their inscriptions and crosses in the rocks. Located about halfway between Deming and Silver City, the City of Rocks is one of the state's more popular parks.

     Area Map
---
| | |
| --- | --- |
| Additional Points of Interest | |
---
Copyright © 2012-16 Benjamin Prepelka
All Rights Reserved