Scenic USA - Florida

Cà d'Zan (House of John)
---
---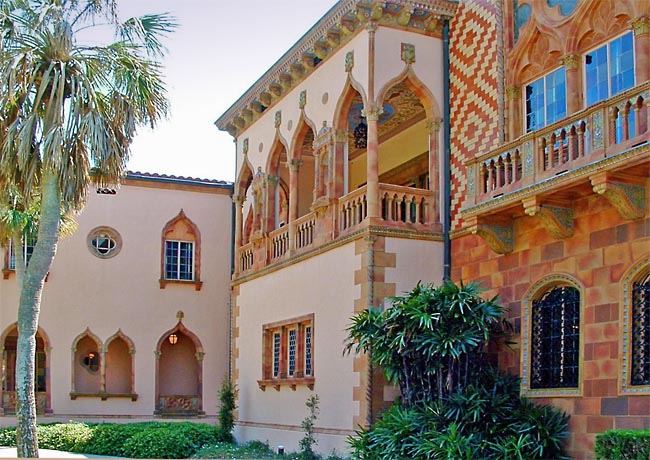 After merging the Barnum & Bailey Circus with their own, the Ringling brothers became the "Circus Kings" of the United States. Enjoying great success during the early 20th century,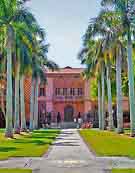 managing the many circus sites for the seven Ringling brothers became increasingly difficult. Stresses from World War I, rail restrictions and lack of manpower took its toll on the older brothers. Between 1907 and 1919, five of the Ringling brothers died. It wasn't long afterward when John and Charles made a decision to move their wintertime headquarters to Sarasota, Florida, where they were also involved in real estate.
   While in Florida, John Ringling, the most famous Ringling Brother, decided to have a winter home built overlooking Sarasota Bay. John and wife Mabel loved the area, and envisioned a house, rose garden and museum. The design of the 30-room mansion fell to New York architect Dwight James Baum. Following an Italian Renaissance architectural style or Mediterranean Revival, the home was built with terra cotta blocks, concrete and brick, covered in stucco and terra cotta, and trimmed with glazed tile. The five story Ca' d'Zan mansion included a full basement, with the main floor designed for living, entertainment and a kitchen. Other floors were used for guest rooms, servants' quarters and baths. An 82-foot tower, with an open-air landing, overlooked the city of Sarasota and Ringling's massive real estate holdings.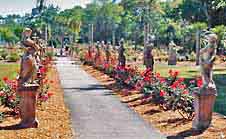 Finished in time for the year-end holidays of 1926, Mabel's death and the Great Depression loomed in the near future, and hard times fell on the last of the Ringling brothers. One of the wealthiest men in the world in 1927, it's said that John Ringling died with only $311 in the bank.
   Spending years in reconstruction at a cost of $15 million, Ringling's Ca' d'Zan was returned to its original splendor and reopened for the public to enjoy. The lush 66 acre estate also includes Ringling's circus museum, Mabel's rose garden, the Banyan Cafe, the official State Art Museum of Florida, an art library, conservation laboratory, and a myriad of John Ringling's whimsical statues.

    Area Map
---
---
Copyright © 2006-17 Benjamin Prepelka
All Rights Reserved