Scenic USA - Oregon
Scenic USA offers a collection of select photographs from a wide variety of attractions, points of interest, historic sites, state parks and
national parks found throughout the United States. Each photo feature is coupled with a brief explanation.
For further detailed information, links to other related sites are provided.
Haystack Reservoir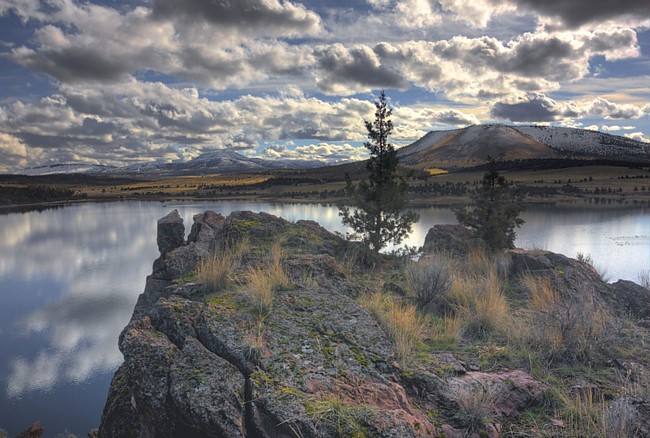 As one leaves Oregon's Cascade Mountains heading east, heavily forested slopes give way to an arid high plains country. Prominent snow-capped mountains and evergreen forests are quickly replaced by sagebrush, lakes and isolated rock formations. A string of lakes, some carved by glaciers and some manmade, provide important stops on this section of the Pacific flyway.
Named for a butte to the south, Haystack Reservoir not only provides much needed irrigation to the high desert pasturelands, but doubles as a recreation area. South of Madras, an earth-filled dam was built in the mid 50s, capturing water from the Crooked River. Modern campsites offer anglers and boaters the chance to hit the lake early or stay out late on the water. Springtime catches of rainbow and brown trout entice the majority, while other anglers target bass and black crappie. With five miles of shoreline, bank fishing entertains all those that arrive without a boat. As summer rolls around, lake levels fluctuate with a large demand for irrigation. Warm temperatures also turn off fishing as coldwater species are driven deep into the lake. The reservoir is viewed as a great get away for Bend, Culver and Madras residents. Itís quite often anglers come to enjoy the surroundings, making the most of fishing, and not so much on catching.
Copyright ©2010 Benjamin Prepelka
All Rights Reserved