Scenic USA - Texas
Scenic USA offers a collection of select photographs from a wide variety of attractions, points of interest, historic sites, state and
national parks found throughout the United States. Each photo feature is coupled with a brief explanation.
For further detailed information, links to other related sites are provided.
Big Bend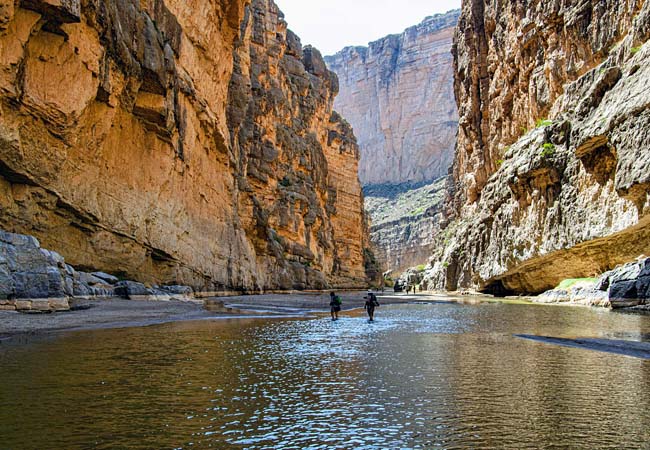 The Big Bend National Park spreads over 800,000 acres on the southwest tip of Texas, where the Wild and Scenic Rio Grande River makes its big bend. The land is marked with soaring mountains and
deep canyons, cut by the Rio Grande. Although the Chihuahua Desert engulfs the land, a wide variety of nocturnal wildlife, as well as 1,200 Mexican and American plants thrived throughout.
This remote park, far from the beaten path, cannot be seen in just a few hours. Over 270 miles of roadways, ranging from paved to primitive, are woven into the parkland. Park facilities do include a gas station, as well as visitor centers, a post office, campground, trailer park, and restaurant. Four visitor centers, most open seasonally, are found at Chisos Basin, Persimmon Gap, Grand Village and Panther Junction (open year round).
This scene was captured as the Rio Grande exits Santa Elena Canyon. The canyon is one of the best-known natural features in Big Bend National Park. Along some stretches the canyon, towering walls loom over the river by 1500 feet.
Copyright ©2008 Benjamin Prepelka
All Rights Reserved