Scenic USA - Pennsylvania
Scenic USA offers a collection of select photographs from a wide variety of attractions, points of interest, historic sites, state and
national parks found throughout the United States. Each photo feature is coupled with a brief explanation.
For further detailed information, links to other related sites are provided.
Forksville Bridge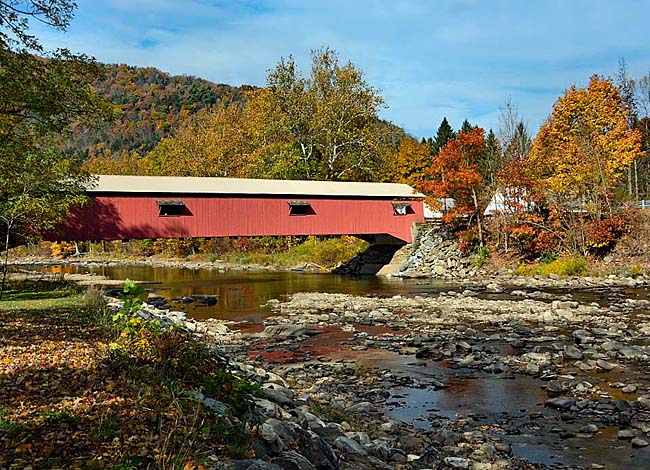 Little has changed over the past 150 years at this river location where the Forksville Bridge spans the Loyalsock Creek. The town's general store and bridge both date to the 1850s and remain historic landmarks in this Pennsylvania town.
Although the bridge has seen a few major restoration projects and now the Forksville General Store has air conditioning, these two historic structures continue on in Sullivan County without skipping a beat, eeing quite a bit of traffic.
Forksville, acquiring its name from the nearby confluence of the Little Loyalsock and Loyalsock creeks, was established in 1833. The river-sized creek was always a problematic roadblock for the growing town. Young Sadler Rogers, just 18 at the time, was called upon to construct the Forksville Bridge. The 152 foot span features a row of distinct horizontal windows, lighting the way for pedestrian walkways on each side.
Even though the bridge is supported by steel beams, the state has issued a sufficiency rating of marginal, begging for a major overhaul. Traveling west from Route 154, and heading to the Forksville General Store, you'll have to take your chances with a bridge crossing to enjoy the restaurant's marvelous meals.
Copyright ©2009 Benjamin Prepelka
All Rights Reserved