Scenic USA - Wisconsin
Scenic USA offers a collection of select photographs from a wide variety of attractions, points of interest, historic sites, state and
national parks found throughout the United States. Each photo feature is coupled with a brief explanation.
For further detailed information, links to other related sites are provided.
Now and Then Falls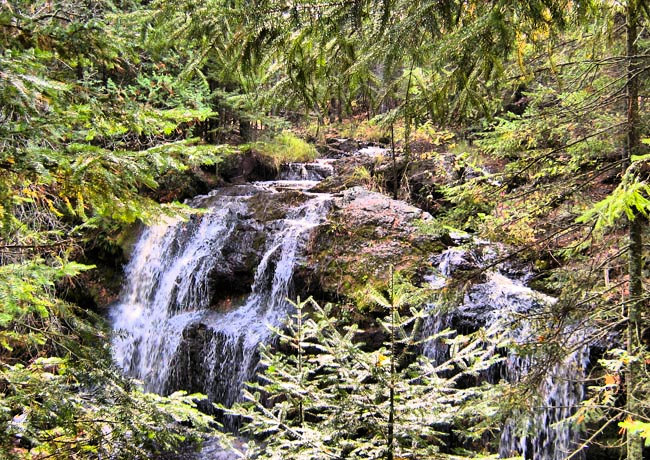 Evidence of a tremendous fracture of Wisconsin's basalt bedrock is still easy to see today in Amnicon State Park. The crack, known as the Douglas Fault, extends from Ashland to Minnesota's Twin Cities. The southern section of the fault has since been uplifted to a 60 degree angle, creating a wonderland of waterfalls. Stops along the park's trail system explain the results of the area's volcanic activity and point out the dark basaltic lava flows and surface changing glaciation.
The park not only puts on a basic geology lesson, but also a fantastic show of waterfalls. The upper and lower Amicon Falls, river rapids, Snake Pit Falls are all very easy to get to and view. The park is set up with crossover bridges and paths on each side of the river. Now and Then Falls, pictured here, is so close to the parking lot it may be overlooked.
Copyright ©2009 Benjamin Prepelka
All Rights Reserved