Shipwrecked on the Atlantic shores of southern Florida in 1696, Jonathan Dickinson is remembered at a state park bearing his name. Dickinson, a Quaker merchant, hoped to establish a colony in Pennsylvania, but the British barkentine, Reformation, foundered on the shoals just off Jupiter Island. His book, Godís Protecting Providence, tells the first account of Indians on the southeast coast, the Dickinson party's capture, their escape and a 200 mile journey up the coast to safety at Saint Augustine.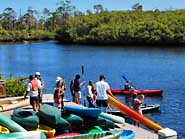 The Jonathan Dickinson Park, located near Stuart, is one of Florida's largest and most diverse state parks. Open every day of the year, the park's 11,500 acres surrounds Florida's first National Wild and Scenic River, the Loxahatchee. Miles of biking, hiking and equestrian trails are woven throughout the park,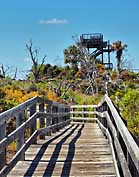 introducing park guests to 13 natural wildlife habitats, including one of the rarest biological communities in the world. The coastal sand pine scrubland, harboring the scrub-jay, Florida mouse, and gopher frog, has been designated Global Imperiled.
The Loxahatchee River also provides a refuge for aquatic life among the river meanders, mangroves and swamp. Boating tours, canoeing and kayaking are other great ways to enjoy the park.
The Hobe Mountain Observation Tower, set on top an ancient sand dune, rises 86 feet above sea level. One of the highest points on the Florida Peninsula, Hobe Mountain offers a panoramic view of the entire park, the Hobe Sound and the Atlantic coastline.