Scenic USA - Kansas

Dalton Gang Hideout
---
---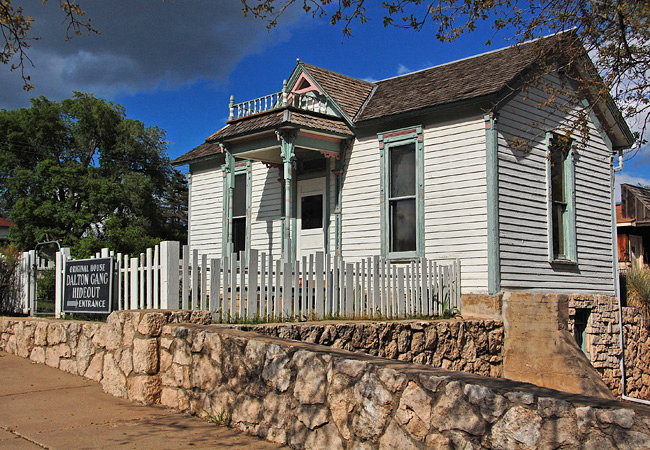 Sharing notoriety with some of America's most infamous outlaw gangs such as the Jesse James Gang, the Wild Bunch and Billy the Kid's gang,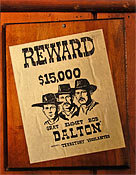 the Dalton Gang robbed banks and raided trains throughout Kansas and Oklahoma. Members of a family of 15 children, the three Dalton brothers of the group were Gatton, Bob and Emmett. Their crime spree lasted about two years and ended in their hometown of Coffeyville. There, the gang attempted to rob two banks. Locals recognized the Daltons and with a 15,000 dollar bounty on their heads, gunfire quickly erupted. Grat and Bob were killed in the gunfight, along with other gang members. Although Emmett took 23 rounds, he survived to spend the next 14 years in the penitentiary.
   Eva Dalton arrived in Meade, Kansas, in 1886, were she opened a shop selling women's finery. Here she met merchant John Whipple. The couple was soon wed and John built his new bride a two story home on a hillside just south of town. News of the Dalton Gang's crimes spread throughout the state, and local citizens in Meade began to suspect Eva's connection to the gang.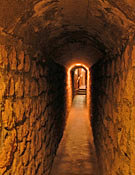 By 1892, at the height of the Dalton Gang's nefarious activities, John and Eva slipped out of town. After the Whipple's departure, it was discovered that a tunnel existed between the Whipple house and a nearby barn. It was then assumed that the Dalton Brothers came and went as they pleased, unknown to the town's people.
   Today, the Whipple home is open daily for tours. The barn, now a museum, doubles as a visitor center where visitors may enter the Dalton Gang Hideout through the tunnel. Fortified and paved during a 1930s WPA project, the tunnel still retains its air of mystic. The Whipple home is decorated with period furnishings and some of the Dalton family's possessions. Dalton Gang memorabilia and authentic western pieces fill the two story museum. The attraction is open every day except for major holidays.

    Area Map
---
| | |
| --- | --- |
| Nearby Points of Interest | |
---
Copyright © 2012-16 Benjamin Prepelka
All Rights Reserved