Scenic USA - Alabama
Scenic USA offers a collection of select photographs from a wide variety of attractions, points of interest, historic sites, state parks and
national parks found throughout the United States. Each photo feature is coupled with a brief explanation.
For further detailed information, links to other related sites are provided.
Natural Bridge
Included in the lengthy list of Alabama's natural wonders is a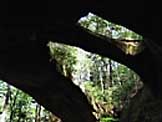 natural bridge found in the northwestern section of the state. This sandstone arch stands 60 feet high and stretches 148 feet in length. Actually the arch is divided up into three sections creating skylights in the cavern. The bridge is one of the longest spans east of the Mississippi.
This scenic area, covered with rolling hills, is found along U.S. Route 278, just west of the town of Natural Bridge. The site's hiking and picnicking areas are tucked in a natural forest, dotted with a variety of wildflowers. The bridge trail is easily reached with a short hike. Inside the cavern, a circular walkway gives visitors an up-close, stirring view of the bridge above.
Copyright ©2007 Benjamin Prepelka
All Rights Reserved