Scenic USA - Wyoming

Emerald Pool
---
---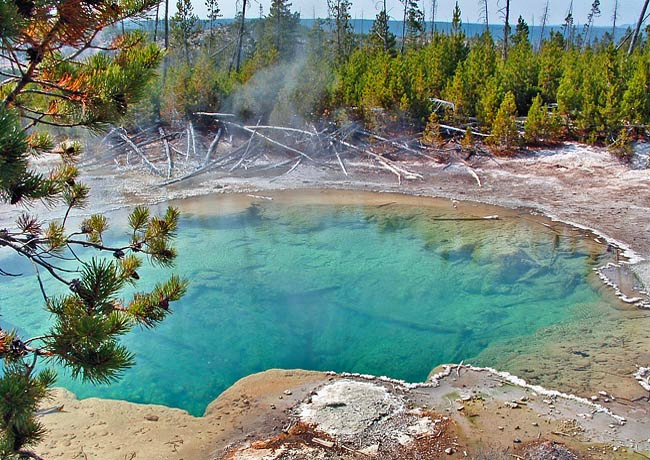 One of the largest and most popular national parks in the West, Yellowstone plays host to four million guests a year, and most come between the months of May and September.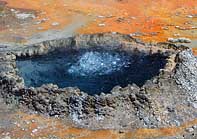 It's a given, these visitors come to see Old Faithful, even if they've seen it before many times before. One big reason is its timeliness, packing in hundreds of spectators 17 times a day while it propels 3700 to 8400 gallons of steam into the air about every 90 minutes.
Between the park's wildlife and it steam spewing geysers, many of the park's hot springs, mud pots and fumaroles are just side features. In an action packed park, the hot springs are the most common hydrothermal features, and the wow factor is limited to their enchanting colors. Emerald Pool, located in the Norris Geyser Basin, naturally gets its name from the green-blue water color. Created from a mix of filtered sunlight in the water and a reflection from yellow sulfur deposits and algae, the emerald hue has drawn admiration (albeit a brief one) for a few hundred years. Grand Prismatic Spring, largest hot spring in the Yellowstone, was named for its colors of blue, green, yellow, orange, gold, red and brown.
Thousands of park visitors pass the Chinese Spring and Blue Star Spring (insets) as they walk around the Old Faithful Geyser boardwalk.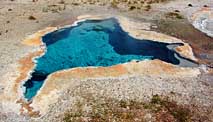 So close to so many visitors, these super hot springs become trash containers. While the park staff does its best to pick out the trash, a few of these deep pools are losing their color due to an overload of garbage. Socks, bath towels, handkerchiefs and coins were retrieved from the Morning Glory Pool. Trash closed off some of the vents, and these blocked vents are kept from releasing their heat, preventing proper circulation. As a result, other microorganisms have infiltrated the pool, changing its delicate ecosystem and coloring.
Yellowstone, America's first national park, covers an area of 3500 square miles, an area too difficult to police.

Area Map
---
| | |
| --- | --- |
| Nearby Points of Interest | |
---
Copyright © 2006-16 Benjamin Prepelka
All Rights Reserved