Scenic USA - New York
Scenic USA offers a collection of select photographs from a wide variety of historic sites, points of interest, and a large
sampling of America's parklands. Each photo feature is coupled with a brief explanation.
For further detailed information, links to other related sites are provided, but in no means should they be considered an endorsement.
Ithaca Falls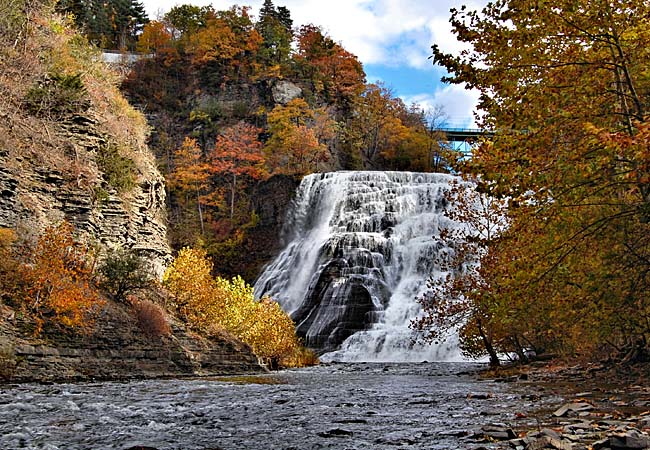 Ithaca, the largest city in New York's Tompkins County, rests on the flat-lands at the southern end of Cayuga Lake. Surrounded by steep-sided hills, the city is divided up by several streams and deep gorges. Ithaca's residents find themselves surrounded by the natural beauty of Cayuga Lake and a large collection of waterfalls. One of the most impressive falls sites is located right in town.
Although it's not highest waterfalls in the area (Taughannock Falls holds that distinction), Ithaca Falls is one of the most powerful waterfalls in the Finger Lakes area. With its impressive height and year-round flow, it's hard to imagine the lack of signage and formal park atmosphere. Because of the many waterfalls and cascades along Fall Creek Gorge, asking the whereabouts of Ithaca Falls may result in mixed directions. Those with a GPS or a local map will find the falls near the intersection of Lake Street and East Falls Street. After crossing the bridge over Fall Creek, waterfall fans will find a small parking lot on the left. Said to be seldom crowded, a worn pathway leads along the river bank to the base of the falls. Over a half dozen viewpoints will tempt photographers into getting their feet wet, as the waterfall hides behind the trees on the river bank.
Copyright ©2011 Benjamin Prepelka
All Rights Reserved