Scenic USA - Florida

St Luke's Episcopal Church
---
---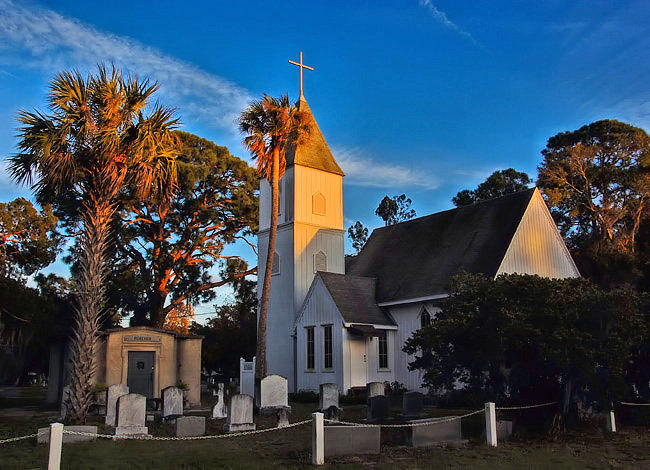 Within a few miles from neighboring Kennedy Space Center and the Merritt Island National Wildlife Refuge, Courtenay is a small neighborhood on north Merritt Island. This historic little community traces its roots to a few hearty pioneers determined to face whatever came their way. Losing their homes and plantations in South Carolina after the Civil War, some of the first Merritt Island residents arrived around 1875. Heading south with next to nothing, families took advantage of a land offer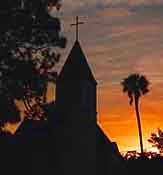 under the Southern Homestead Act. These first Merritt Island residents relied on cash crops of citrus and pineapples. Sent to northern markets aboard steam-powered riverboats, Indian River fruit was soon recognized all along the east coast.
Continuing the Episcopalian faith from their South Carolina hometowns of Charleston, Beaufort and the St. John's Island area, the LaRoche, Porcher and Sams families worshipped together in the home of John Sams for the first few years. This small, self reliant group prospered and grew into one of the first communities in Brevard County. Outgrowing the Sams residence, the community erected a church.
Here on Tropical Trail the 125 year old Saint Luke's Episcopal Church still stands. Although a new, much larger church was completed in 1978, the original Carpenter Gothic style church building remains a cozy site for small weddings and special services.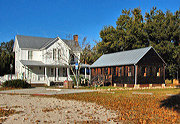 The original church was built on land donated by Edward Porcher, not far from the Indian River. Completed in 1888, Lucy Boardman of Connecticut provided the funds (600 dollars), while parishioners provided the labor. Built with hand planed island pine and cypress, the church exterior was set-off with a steep gabled roofline and square bell tower.
The John Sams Homestead (inset) on Pines Island Conservation property, located just north of the church, is open to the public for tours from Thursday through Saturday, from 9am to 5pm. The St. Luke's Episcopal Chapel is available for tours by request.

Area Map
---
| | |
| --- | --- |
| Additional Points of Interest | |
---
Copyright © 2013-16 Benjamin Prepelka
All Rights Reserved