Scenic USA - Georgia

Stone Mountain Railway
---
---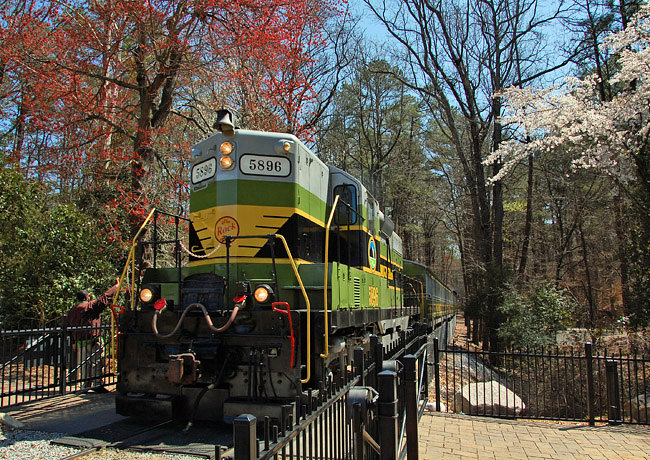 Stone Mountain Park, located beside one of the huge dome monadnocks found in eastern United States, is one of Georgia's most famous attractions.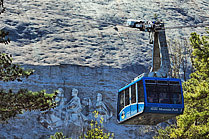 Like an iceberg floating on the surface, Stone Mountain rises 825 feet above the surface, but most of its unseen mass extends for nine miles below. Here on the bare granite mountainside, park visitors may gaze upon the largest bas-relief sculpture in the world, depicting Confederate Civil War leaders General Lee, Jefferson Davis and Thomas Jonathan "Stonewall" Jackson. The controversial sculpture encountered numerous set backs over the years, initially planned in 1915. The Confederate tribute was finally dedicated in 1970, two years before its completion. Entertaining visitors since 1938, Stone Mountain Park offers a wide variety of attractions, including modern day adventures on the Sky Hike and summer fun at Geyser Towers. The traditional evening laser show continues, guests still pack into the cable-car for a ride to the mountaintop and no park visit isn't complete without a ride on the Stone Mountain Railroad.
Making its run around this massive mountain, park visitors have been enjoying the Stone Mountain Railroad since 1962. First lead by the General II, the four mile excursion train utilized three steam-powered locomotives at different times.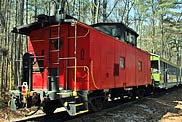 Too expensive to maintain and repair, the steam locomotives were set up to lead train, pushed by a diesel powered locomotive. The illusion of steam powered locomotives ended in 2002, and today the railroad relies strictly on diesel power. Shown here leading the line of open-air cars is the GM EMD #5896. A popular locomotive among tourist train attractions, the former Chesapeake and Ohio GP7 diesel has just returned from a major overhaul. Showing off a fresh Central of Georgia paint scheme, the #5896 was rewired, a new braking system installed, generators overhauled and the engine reworked. The train departs the depot every 45 minutes, with the round trip lasting about a half hour.

Area Map
---
| | |
| --- | --- |
| Additional Points of Interest | |
---
Copyright © 2013-16 Benjamin Prepelka
All Rights Reserved