Scenic USA - Florida

Pay-hay-okee Trail
---
---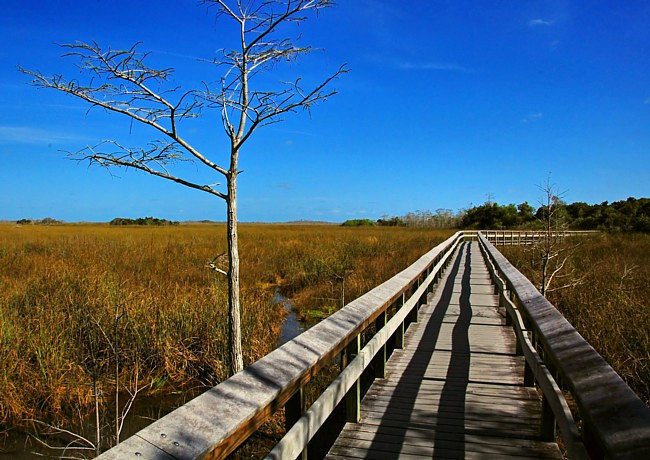 One of the largest national parks in America's Lower 48 and is also one of the most popular. Florida's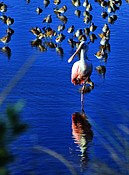 Everglades National Park covers 2400 square miles, but represents only a fifth of the massive watershed. Providing a habitat for a wide variety of wildlife, scientific studies have revealed the damaging nature of man's impact on the Everglades during the past half century.
A thin blacktop line heads southward for 58 miles from the Coe Visitor Center on its way to the most southern stop on the Florida mainland. Along the way, numerous pullouts and trails offer a look at the diverse habitat and many species of Everglades wildlife. While the popular alligator will thrill Evergladesí visitors, crocodiles, turtles, snakes and waterfowl are also found living alongside the famed reptilian beast. It's also common to see wild pigs, bobcats and deer. For those hoping to get a glimpse of the Florida panther, their numbers have dwindled to record lows.
The Pay-hay-okee Trail, almost centered in the park, looks out over an immense river covered over with grass. A Seminole Indian phrase meaning grassy waters, the Pay-hay-okee loop boardwalk extends into this 50 mile wide river of sawgrass.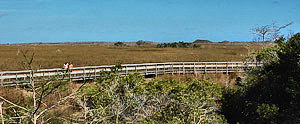 Not a true grass, but a tough, sharp-toothed sedge, sawgrass thrives on seasonal cycles of drought and standing water. Beginning at a high point on the southern peninsula, about 15 feet above sea level, the massive river slowly makes its way to the Florida Bay. From itís starting point near central Florida's Disney Wilderness Preserve, seasonal rainfall slowly makes its way southward averaging just over a half mile per month. Even though the size of the Everglades and its wildlife has decreased dramatically, Florida visitors are still able to enjoy many of its most prominent wildlife species.

Everglades Directions
---
| | |
| --- | --- |
| Additional Points of Interest | |
---
Copyright © 2012-15 Benjamin Prepelka
All Rights Reserved