Scenic USA - Pennsylvania
Scenic USA offers a collection of select photographs from a wide variety of attractions, points of interest, historic sites, state parks and
national parks found throughout the United States. Each photo feature is coupled with a brief explanation.
For further detailed information, links to other related sites are provided.
Strasburg Railroad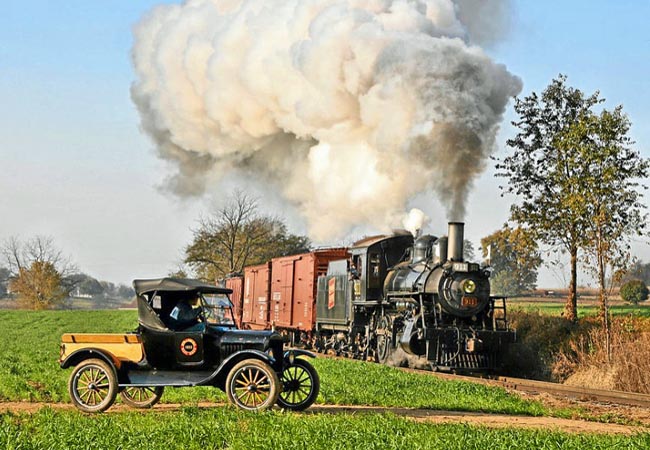 Historic Steam Engines are still thrilling passengers throughout the United States. Close to 40 different railway lines feature these fiery behemoths. It's off to Strasburg's Short Line Railroad, offering a 45 minute rail ride through Lancaster County. This historic railroad is one oldest and most popular railroads in the country. The train, pulled by a 1924 Baldwin locomotive, rolls through scenic landscapes of Pennsylvania and among contoured farmlands, passing by picturesque barns and well kept farm homes.
For
railroad buffs, the enormous Strasburg Railroad Museum and rail-yard is it! The site is steeped in old time railroad equipment, historic locomotives, Pullman cars and rail mementos. Engine #90 is a powerful steam locomotive that was headed for the scrap heap when saved by the Strasburg Railroad. Pictured here is Engine 90 backing through its own blast of steam. The relic was a freight locomotive capable of pulling 1,000 tons. Luckily its last 35 years was spent on the Strasburg Line, showing off historic railroad equipment and the scenic, Pennsylvania Dutch countryside.
Copyright ©2007 Benjamin Prepelka
All Rights Reserved