Scenic USA - Connecticut

Five Mile Point Lighthouse
---
---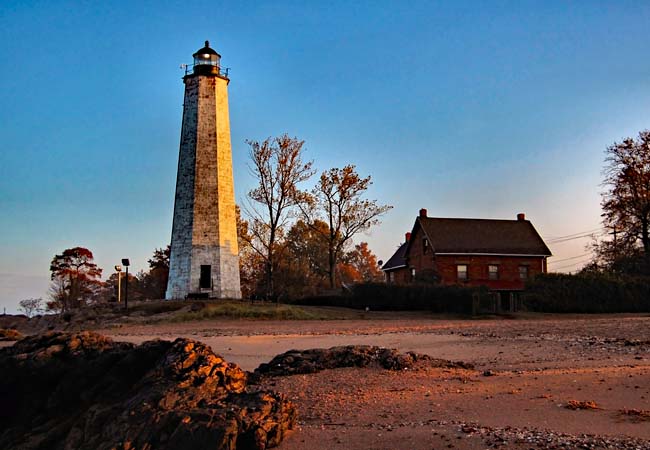 Purchased in 1924, Lighthouse Point Park became New Haven's own special gathering place.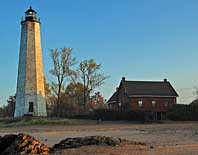 Known for baseball games, football, track meets, and Sunday afternoon picnics, Lighthouse Point Park was an exciting place during the Roaring 20s. Today, baseball legends Babe Ruth and Ty Cobb are gone, but the 1920s carousel, and the old New Haven Lighthouse remain.
Taking over for an in-effective 1805 wooden tower, the 70 foot octagonal lighthouse was built to last. The exterior's sandstone blocks were hauled in from New Haven. The interior was with lined with brick, and a series of granite ledges made up the spiral staircase, providing necessary access for lantern room maintenance.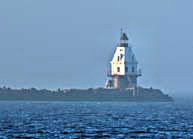 The new lighthouse featured a 12 lamp array, 20 inch reflector and a fog bell. Later in 1855, the light-station was equipped with the latest fourth order Fresnel lens.
With the addition of an off-shore breakwater lighthouse out on Long Island Sound, called the Southwest Ledge Light, Five Mile Point Lighthouse was no longer needed. Placed on the National Register of Historic Places in 1990, the New Haven Harbor Light-station remains the centerpiece of Lighthouse Point Park. Located just five miles from the town center and New Haven Green, the Five Mile Point Lighthouse name still manages to confuse lighthouse fans looking for the New Haven Harbor Light.

Area Map
---
| | |
| --- | --- |
| Additional Points of Interest | |
---
Copyright © 2011-15 Benjamin Prepelka
All Rights Reserved