Scenic USA - Oklahoma

Oklahoma City National Memorial
---
---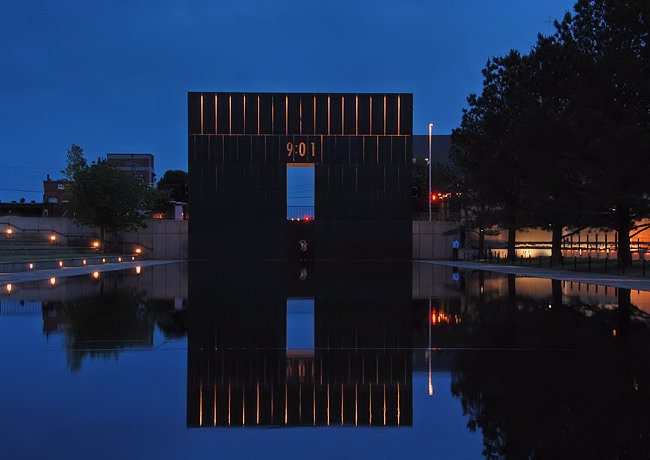 A huge explosion rocked Oklahoma's Murrah Federal Building at 9:02 AM on April 19, 1995.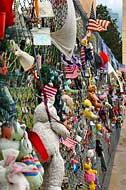 Damaging hundreds of buildings well beyond the Federal building's two block area, its effects quickly spread throughout the nation . . . and the question of why is something that will remain with us forever.
A painful memory remains for all personally touched by the bombing. The story continued after the blast with immediate rescue operations, physical and emotional aid, and the design of a meaningful memorial.
The Oklahoma City National Memorial, an outdoor memorial park, was officially dedicated on April 19th, 2000, with the National Memorial Museum opening the following year.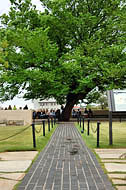 The memorial design, by husband and wife team Hans and Torrey Butzer, is anchored by two large gates with a long, black granite reflecting pool running east to west in the center. The Gates of Time, one marked 9:01, represents the last moments of peace, while the opposite western gate marked 9:03 represents the first moments of recovery.
The Field of Empty Chairs represents all the victims that will never sit at the family dinner table again. Hand-crafted from glass, bronze and stone, the 168 chairs are arranged in nine rows, symbolizing the nine floors of the building. The 19 smaller chairs represent the children, with three unborn children listed on their mothers' chairs.
Along the western end of the memorial is a 10 foot tall chain link fence, installed during site work after the blast. The Memorial Fence has gathered thousands of mementoes left by visitors over the years. Tokens from loved ones as well strangers,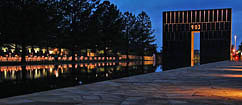 each offer a tribute to unsuspecting office workers and Murrah Federal Building visitors.
Called the Survivor Tree, an American elm on the north side of the memorial was heavily damaged by the blast. Losing a majority of its branches, charred by burning cars, and sprayed by flying glass and debris, the tree survived much to the amazement of all. After its remarkable regrowth, the 100 year old elm offers a bright note among the somber reminders of the memorial site.

Area Map
---
| | |
| --- | --- |
| Nearby Points of Interest | |
---
Copyright © 2007-16 Benjamin Prepelka
All Rights Reserved