Scenic USA - Arizona
Scenic USA offers a collection of select photographs from a wide variety of attractions, points of interest, historic sites, state and
national parks found throughout the United States. Each photo feature is coupled with a brief explanation.
For further detailed information, links to other related sites are provided.
Chinde Point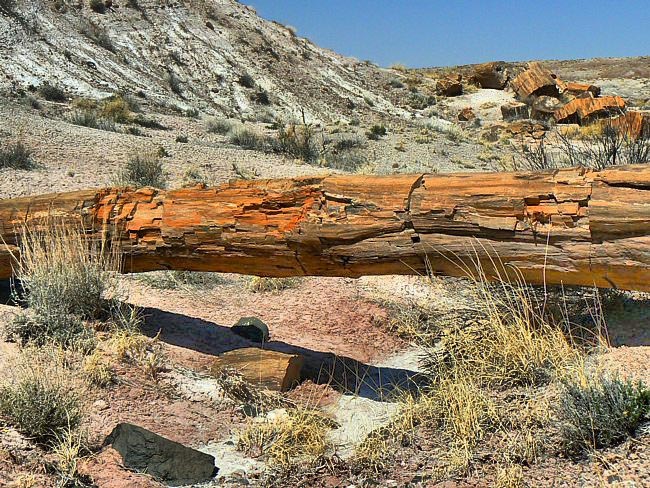 Arizona's petrified forest dates back 225 million years, to an age when dinosaurs ruled the land. The climate was much different then, and the area was covered with lakes, swamps and streams. What has made this land unique today, is its large collection of petrified pine trees, some as long as 200 feet. The ancient trees have been well preserved by a natural process. The crystallized fallen forest has littered the rolling hills of the Petrified Forest National Park.
The Painted Desert stretches across a large swath of northeast Arizona's Navajoland, with a small part captured in the Petrified Forest's sister park. The two adjacent parks offer a 28 mile drive, displaying a desert landscape, varied in multicolored sandstone, shale and clay. These earth-tones include blues, grays, reds, oranges, lavender and white. The park also features ancient Indian ruins, rock art and hiking trails. Most of the sights can be seen from the roadside, where the majority of visitors seldom stray.
This view features a brittle log bridge, found along a trail at Chinde Point, in the northern section of the Painted Desert. Remarkably, some of the petrified logs have retained some of the finest details, including tree knots.
Copyright ©2008 Benjamin Prepelka
All Rights Reserved