Scenic USA - Pennsylvania
Scenic USA offers a collection of select photographs from a wide variety of historic sites, points of interest, and a large
sampling of America's parklands. Each photo feature is coupled with a brief explanation.
For further detailed information, links to other related sites are provided, but in no means should they be considered an endorsement.
Bells Majestic View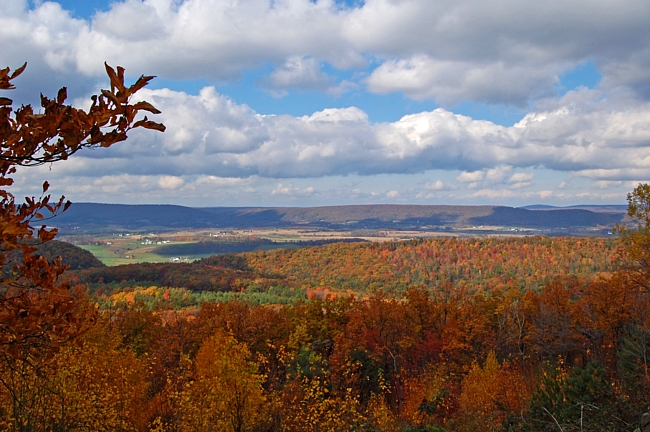 The Pennsylvania State Forest idea was born out of fear that a depleted forest would never fully recover without intervention. Vast areas of forestlands were never properly managed during the 19th century, when lumber and iron producing companies clear-cut huge tracts of land, leaving nothing but stumps and dead tree tops. Pennsylvania legislators authorized the purchase of these depleted lands, and with the appointment of Dr. Joseph Rothrock, the Pennsylvania State Forest system was born.
Today, Pennsylvania forestry division oversees 2.1 million acres of one of the world's richest timber reserves. Besides protecting countless plant and animal species, these forest lands provide acres and acres of recreation space.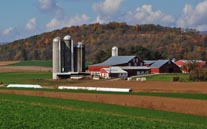 Traveling westward from the Susquehanna River and the Lewisburg area, a few main highways follow the creases of Pennsylvania's rolling hills, passing huge stretches of beautiful farmland, and well into the Allegheny Mountains. Here, the Bald Eagle State Forest covers a broad area of mountain tops and spreads over five counties. Within the forest, five scenic drives follow 300 miles of roads, offering broad vistas of both state and private lands. Taking Woodward Gap Road, Bald Eagle forest visitors will find an overlook called Bells Majestic View. Here, miles and miles of Pennsylvania farmland are spread out before you from this mountaintop viewpoint. For those that enjoy hiking, over 340 miles of trails are woven throughout the land, with a few following 47 miles of picturesque mountain streams. This well-recovered central Pennsylvanian forestland also surrounds a half dozen state parks and natural areas.
Copyright ©2011 Benjamin Prepelka
All Rights Reserved