Scenic USA - Florida

Fort Pickens
---
---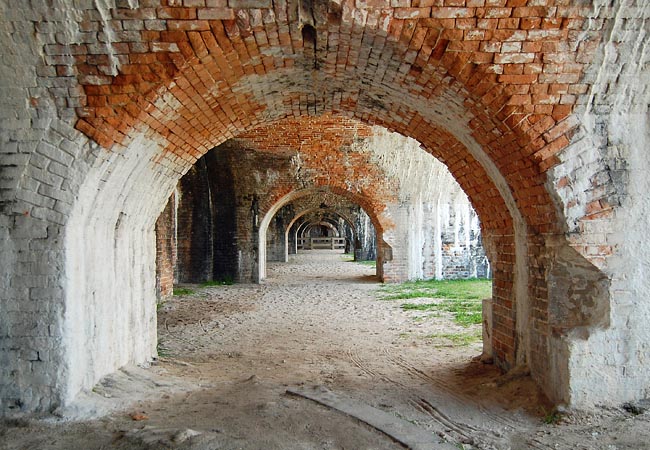 Parklands of the Gulf Islands National Seashore stretch across the western end of Florida's panhandle and on into Mississippi.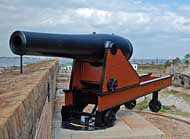 Outlining the Mississippi Sound, Mississippi's Gulf Islands lay about 10 miles from shore and are only reached by boat. Florida's Santa Rosa Island, creating an inlet to Pensacola Bay, is conveniently linked by causeways at Navarre and Gulf Breeze. Today, Fort Pickens still occupies the tip of the island, and looks over the entrance to Pensacola Bay.
Success of America's Fort McHenry during the War of 1812, lead to the construction of similar harbor defenses from 1817 to 1870. Masonry forts, such as Fort Pickens, were unbeatable up to the days of the Civil War when rifled cannons and ironclad warships were developed.
Fort Pickens successfully protected the Pensacola coastline for decades.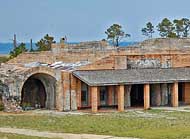 A series of masonry walls, pictured here, supported a line of heavy cannons above. The 15 inch Rodman cannon was the largest smooth bore gun ever used by the U.S. Army. Its ten man crew worked together loading a 50 pound powder charge, hoisting the cannon ball into the gun, swabbing the barrel for sparks, and re-aiming the gun. Plaster-lined quarters not only housed officers, but doubled as a hospital and prison at various times. In 1886, Apache men, including Geronimo, were separated from their families and shipped to Fort Pickens. Fearing public outcry, the Apache POW families were reunited at Fort Pickens the following year. In June, 1887, a corn dance was held to celebrate the reunion.

&nbsp Area Map
&nbsp Detailed Map Fort Area
---
| | |
| --- | --- |
| Additional Points of Interest | |
---
Copyright © 2010-15 Benjamin Prepelka
All Rights Reserved