Scenic USA - Colorado
Scenic USA offers a collection of select photographs from a wide variety of attractions, points of interest, historic sites, state parks and
national parks found throughout the United States. Each photo feature is coupled with a brief explanation.
For further detailed information, links to other related sites are provided.
West Elk Loop
After a drive through some of the highest mountain peaks in Colorado, it's hard to believe this area was once a level seabed. The period of this area's deformation is known as the Laramide Orogeny, reaching its zenith about 60 million years ago. It is thought that crustal buckling forces generated thick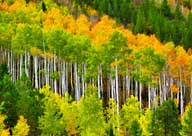 folded, faulted and metamorphosed strata. However, ideas regarding the uplifting process are part of an on-going debate.
The natural beauty of these mountains is enjoyable anytime of year, but it seems extra special during the early fall when aspens are covered in gold. The twisting mountains roads add more excitement in the high country. Most of these Rocky Mountain highways should qualify as scenic byways. This majestic mountain view is found along Colorado's West Elk Loop (Route 133), just east of McClure Pass, south of the town of Redstone.
Copyright ©2007 Benjamin Prepelka
All Rights Reserved