Scenic USA - Tennessee

Lookout Mountain Inclined Railway
---
---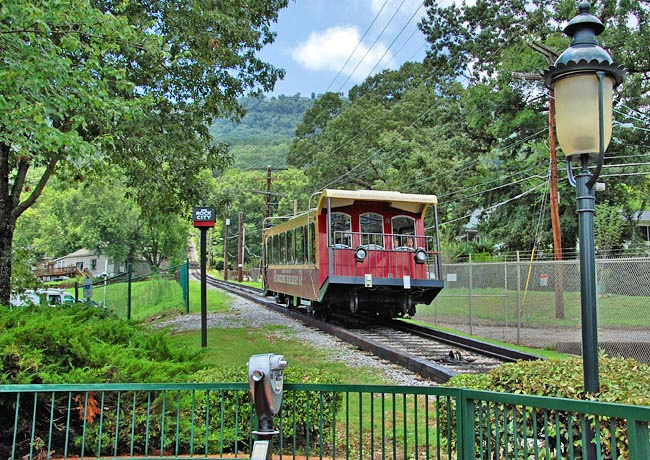 Using a passenger railcar on an inclined plane (funicular) was a common mode of transportation used to climb steep hillsides during the late 19th and early 20th centuries. The cable railway not only carried passengers, but in some cases also hauled automobiles up the steep mountainsides. One of the most famous inclined planes is in Johnstown, Pennsylvania, while another climbs Lookout Mountain in Tennessee.
   Here on top of Lookout Mountain you'll find Point Park, part of the Chickamauga-Chattanooga National Military Park. Visitors are always amazed at the exceptional views of Chattanooga and the Tennessee River Valley below. One quick way to this mountaintop viewpoint is aboard Lookout Mountain's Inclined Railway. This trolley style passenger car starts off from the bottom at a casual grade and quickly leads to one of the steepest climbs of any passenger railway. Billed as "America's most Amazing Mile," the railway climbs a breathtaking 72.7 percent grade.
   Built by John Crass and the Lookout Mountain Railway Company, this technical marvel opened in 1895. Simply called the Incline, the railway's cable spools were first wound by coal-fired steam engines.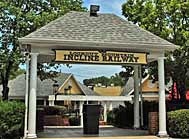 Now relying on two 100 horsepower electric motors, one car goes up and the other descends, passing at the midpoint on a short section of twin tracks. Speaking of cables, while transporting millions of passengers over the years you may easily guess what the number one question is among them.
   Once a four hour trip up to the top over a toll road called Whiteside Pike, the inclined railway whisked its passengers up the mountain in a matter of minutes. At the top was the palatial Lookout Mountain Hotel. Although the Lookout Incline Railway hasn't changed much over the years, the hotel was destroyed in a fire and now modern highway makes for an easy drive to Lookout Mountain.

    Area Map
---
---
Copyright © 2013-17 Benjamin Prepelka
All Rights Reserved