Scenic USA - Iowa
Scenic USA offers a collection of select photographs from a wide variety of attractions, points of interest, historic sites, state and
national parks found throughout the United States. Each photo feature is coupled with a brief explanation.
For further detailed information, links to other related sites are provided.
Boone & Scenic Valley Railroad
Convenience and quick service from the trucking industry had slowly robbed the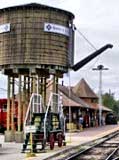 railroad of its customers. The Chicago and North Western Line held on as long as possible, but an inevitable sale took place in 1983. Thanks to the Boone Railroad Historic Society, the scenic Iowa line had been rescued. The sale included 11 miles of track that runs through Boone's

outlying countryside.The first train tickets were sold from a tent, until a train depot was built. Salvaged lumber from a depot in Tama was skillfully used in today Boone's depot.
Train tours, just under two hours, roll through the scenic Des Moines River Valley. The run from Boone to Fraser gives passengers a rail experience aboard a 1920s era coach or the Rock Island #17051 caboose. This view shows the Boone Scenic Valley Railroad train gathering speed as it pulls away from the depot. Saturday runs are powered by a lovable steam locomotive, the last Chinese production line engine, JS8419.
Copyright ©2008 Benjamin Prepelka
All Rights Reserved