Scenic USA - Michigan

Point Iroquois Lighthouse
---
---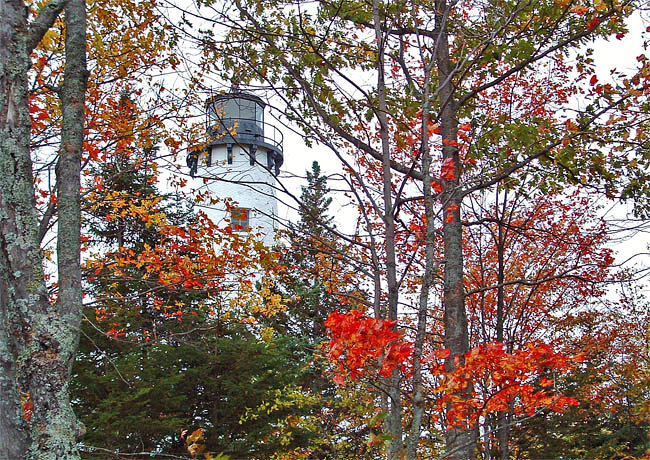 An important landmark for French explorers and fur traders during the early 1600s, Point Iroquois became the site of a bloody battle between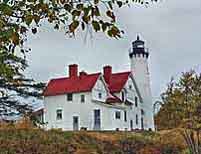 local Ojibwa (Chippewa) and a band of marauding Iroquois. But more important in its later years, the location marks a vital link between Lake Superior and the remaining Great Lakes. The St. Marys River,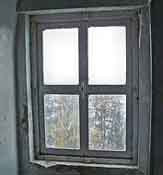 setting the border between Canadian and United States, became the passageway for large freighters. By the mid 19th century, engineers and construction crews put together a lighthouse, the St. Marys Canal and the Soo Locks. This busy navagational route aided huge shipments of iron ore from the Minnesota range through Whitefish Bay, into Lake Huron and on to the steel mills of Ohio and Pennsylvania.
   Built of wood, the first Point Iroquois Lighthouse and keeper's quarters took shape in 1855, guiding ships on the channel for the first time on September 20, 1857. The steady line of traffic passing the lighthouse emphasized the importance of the light station during its first decade. By 1870, the well-weathered wooden tower and station house were replaced with a very substantial brick structure that endures to this day. After 92 years of service, the Point Iroquois station was replaced by an automated channel-light in 1962. Controling costs by shedding its inventory, the U.S. Coast Guard transferred ownership to the U. S. Park Service.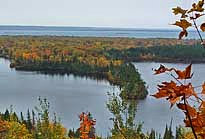 Before the historical society took over the station's Fourth Order Fresnel lens was shipped to Washington DC, where the century old beacon was placed on display at the Smithsonian. Leased to the Bay Mills-Brimley Historical Research Society, the light station received a total restoration in 1983. Located in the Hiawatha National Forest, the light station was restored as a museum and visitor center, and placed on the National Register of Historic Places. The 65 foot tower, now 145 years old, offers a grand viewing platform of nearby Sault Sainte Marie, lake bound freighter traffic, and views of Canada across the channel.

    Area Map
---
| | |
| --- | --- |
| Additional Points of Interest | Scenic USA Prints from Fine Art America |
---
Copyright © 2008-16 Benjamin Prepelka
All Rights Reserved