Scenic USA - Arkansas
Scenic USA offers a collection of select photographs from a wide variety of attractions, points of interest, historic sites, state and
national parks found throughout the United States. Each photo feature is coupled with a brief explanation.
For further detailed information, links to other related sites are provided.
Fort Smith National Cemetery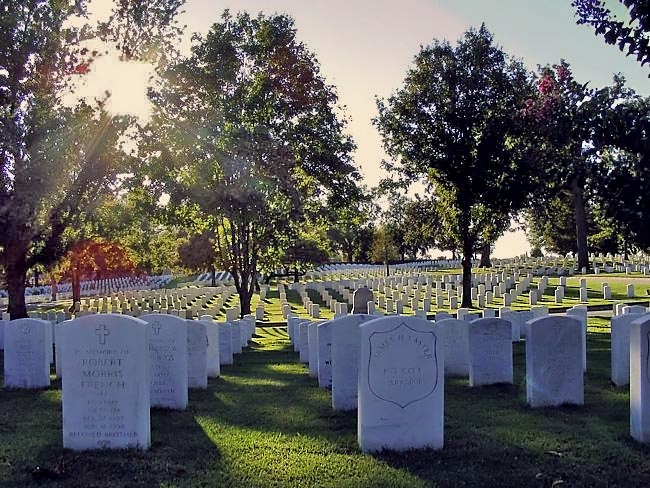 General William Bradford and his troops arrived at the confluence of the Poteau and Arkansas rivers on Christmas day in 1817. Their main objective was to establish a military post in a newly acquired Louisiana Purchase. As eastern settlers moved into the new territory, hostilities increased with native populations of Cherokee and Osage Indians. Fort Smith became the westernmost outpost in the new territory, with hopes to quell the unrest. Despite its importance, the army soon pulled out of the base due to high rates of disease and death. The Fort Smith National Cemetery was established at this time, burying the bodies of 25 percent of the command.
During the Civil War Confederate forces occupied Fort Smith, until Union troops moved in during the fall of 1863. Over three years of occupation at least 400 Rebel soldiers were buried at the cemetery. In 1867 the burial grounds were nationalized and reactivated, as many of the Civil War dead were moved from the battlefield and reinterred in the expanded cemetery. Many of the dead, in keeping with Arkansas tradition, are buried with their feet facing their headstones, ensuring their bodies will arise facing east, a proper direction during Resurrection Day.
This Arkansas cemetery, a National Historic Landmark, is the oldest national cemetery in the United States. Two of the most famous Americans laid to rest here are Brigadier General William O. Darby (U.S. Army Rangers) and Judge Isaac C. Parker (the hanging judge). Additional memorials and monument include a carillon, donated by the American Veterans, a Vietnam Veterans Memorial and a marble memorial to the Unknown Confederate Dead.
Copyright ©2009 Benjamin Prepelka
All Rights Reserved