Scenic USA - Colorado

Rim Rock Drive
---
---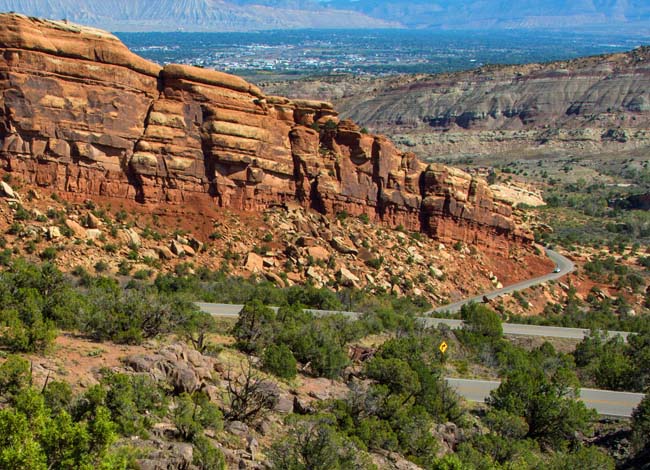 Just as you would image, Colorado National Monument's Rim Rock Drive lives up to its name. This highland highway rises up 2000 feet above Grand Valley and follows the edge of Uncompahgre Plateau.
This winding, scenic drive shows off Colorado's splendid beauty, including sheer red-rock cliffs, breathtaking canyon views, isolated columns and gargantuan free standing slabs of rock.
For starters, Cold Shivers Point, on the east side of the park, overlooks the deep Columbus Canyon. More striking canyon views are found as you continued along the drive, including Red Canyon and Upper Ute Canyon. The 23 mile route is marked with stops at Book Cliffs, Artist Point, Coke Ovens Overlook and Balanced Rock. Don't miss Grand View, certainly living up to its name with sights of Independence Monument rising up 450 feet from the valley floor. And here, the view out in to the valley and beyond offers an incredible views of Grand Junction and Fruita.
John Otto arrived in the Grand Valley in 1907. Enchanted with the area's towering monoliths and vast canyon panoramas, Otto soon began his campaign to have Monument Canyon set aside as a national park. Otto finally received his wish in 1911 when President Taft, under the authority of the Antiquities Act, established the Colorado National Monument.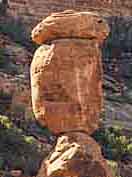 Construction of Rim Rock Drive began in 1931, and continued on with the help of Civilian Conservation Corps in 1933.
John Otto's efforts over a century ago are still in use today in the Colorado National Monument. The monument offers over 40 miles of trails, many of them first built by Otto. Trails in the park range from a quarter mile to more than 14 miles, offering fun for hikers and bikers of all skill levels. Five short trails, no more than a half mile, introduce the park's topography without packing up for the day. Other longer trails provide up close views of the massive Independence Monument and remote portions of Monument Canyon. The most difficult Liberty Cap Trail and the historic Corkscrew Trail Loop were built by the park's first ranger, John Otto.

Area Map
Park Map
---
Nearby Points of Interest
---
Copyright © 2007-16 Benjamin Prepelka
All Rights Reserved