Scenic USA - New Jersey

Cape May Point State Park
---
---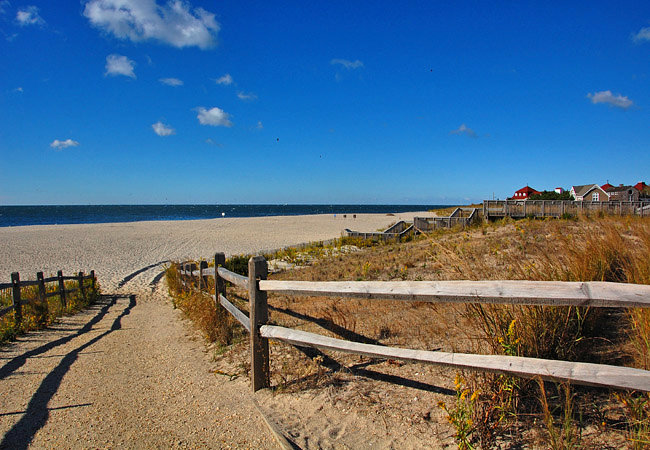 Located on the tip of Cape May Peninsula, Cape May Point State Park is a major stop for migrating birds along the Atlantic Flyway.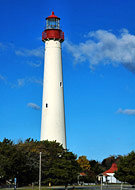 Overlooking the broad Delaware Bay, this popular state park is home to the Cape May Point Lighthouse. Along with area birds and the grand lighthouse, boardwalks, nature trails, a beautiful broad beach and picnic pavilion entice park visitors to explore this marvelous seaside park.
Set on 235 acres, the area was once a military base. At low tide some of gun emplacements are still visible. The slow but methodical sea has whittled away at the shoreline, dropping the inland bunker from its perch 900 feet inland. The second lighthouse, replacing the 1823 tower, was built in 1847. An eroded shoreline prompted officials to have the tower dismantled and rebuild inland.

The 157 foot tall lighthouse was relocated on a high bluff in 1859. For those up to the climb, the historic landmark provides 360 degree views of the entire state park and Cape May Point.
Area ponds, freshwater wetlands and marsh areas attract area wildlife. Viewing platforms, elevated boardwalks and nature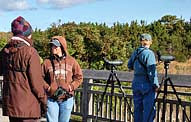 trails provide many viewpoints to watch 100s of species and butterflies as they migrate along the coast. It's a 13 mile stretch of open water over the bay, so the park is a natural stop-over for spring and fall migrations.
The park is open during daylight hours and is located within the Ocean City metro area. Part of the New Jersey Coastal Heritage Trail, Cape May Point State Park is a popular stop on the Jersey Shore.

Area Map
---
Nearby Points of Interest
---
Copyright © 2013-16 Benjamin Prepelka
All Rights Reserved