Scenic USA - Wyoming
Scenic USA offers a collection of select photographs from a wide variety of attractions, points of interest, historic sites, state and
national parks found throughout the United States. Each photo feature is coupled with a brief explanation.
For further detailed information, links to other related sites are provided.
Gardner River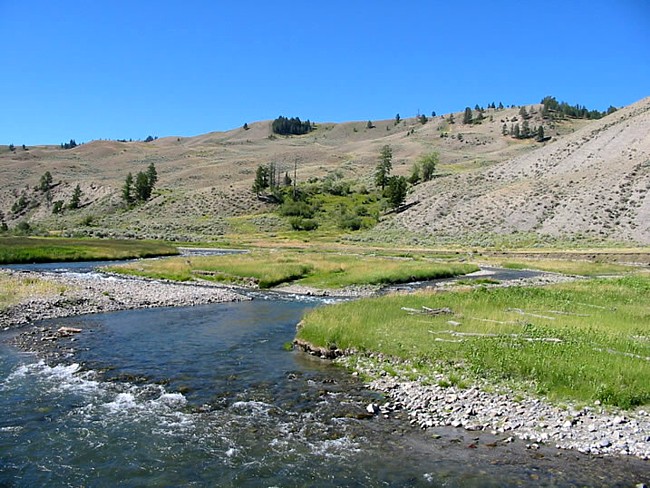 Yellowstone National Park, one of America's elite treasures, is known throughout the world for its abundant herds of wildlife and famous collections of geysers. For the angler, the park's numerous mountain streams and rivers receive an extra bit of attention. Noted as a fly-fisherman's paradise, the Gardner (Gardiner) River flows through northwestern Yellowstone, nearby the northern entrance. The vee-shaped path of the Gardner River starts as a trickle on Joseph Peak and heads southward to the town of Indian Creek. Along its southerly direction, near Gardner Hole (a subalpine basin), four delightful creeks join the main river. This area of the park is set up as a family fishing site and is the only section for youngsters under 12 allowing worm fishing.
At the town Indian Creek the river makes an about-face and turns northward toward the town of Gardiner. Among the Sheepeater Cliffs, the river has cut its way through a basaltic lava flow estimated a half million year old. The premier fishing spot lies ahead. A section of the river between Mammoth Hot Springs and Gardiner is loaded with riffles, deep runs and small pools, where rainbow, brown, cutthroat and brook trout thrive.
Copyright ©2009 Benjamin Prepelka
All Rights Reserved