Scenic USA - Pennsylvania
Scenic USA offers a collection of select photographs from a wide variety of attractions, points of interest, historic sites, state parks and
national parks found throughout the United States. Each photo feature is coupled with a brief explanation.
For further detailed information, links to other related sites are provided.
McConnell's Mill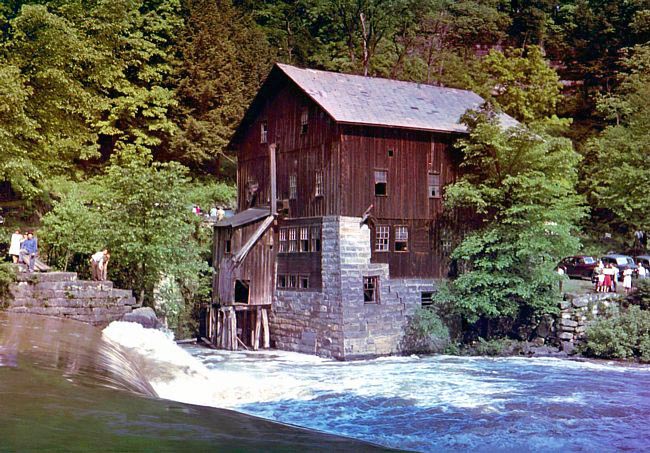 McConnell's Mill State Park was honored with a National Natural Landmark in 1974. The historic grist mill was built along the quick flowing Slippery Rock Creek in 1868. The mill processed corn, oats, wheat and buckwheat for 60 years in western Pennsylvania. The park centers around the stream and its 400 foot deep gorge. House sized boulders line the creek, adding a fun and exciting playfield along the water's edge. Although the creek is 50 miles long and lined with slippery rocks, it was thought that a natural oil seep made one particular rock, the slippery rock. Park visitors are warned of the dangers associated with the creek's swift waters, treacherous rapids and deep pools, and swimming is strictly forbidden.
A closer look at this charming image reveals vintage cars and dated clothing. The photograph was taken in 1947 and has recently been digitally reprocessed, removing an old faded and washed-out appearance. Digital photography has blossomed exponentially in the past five years, removing some of the photographic obstacles.
Copyright ©2007 Benjamin Prepelka
All Rights Reserved