Scenic USA - South Dakota
Scenic USA offers a collection of select photographs from a wide variety of attractions, points of interest, historic sites, state parks and
national parks found throughout the United States. Each photo feature is coupled with a brief explanation.
For further detailed information, links to other related sites are provided.
Big Sioux River Falls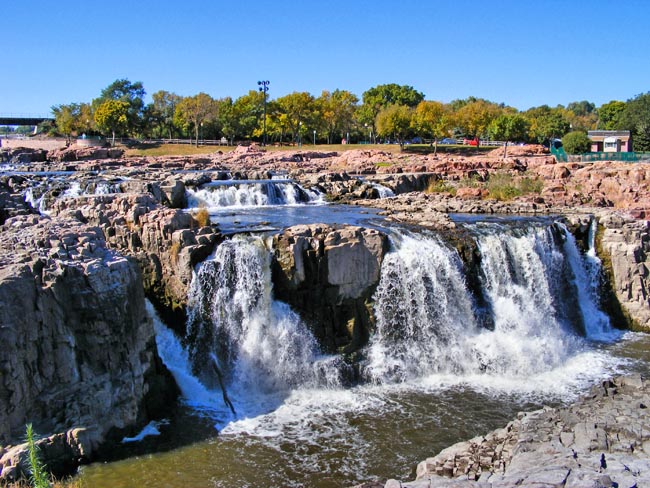 South Dakota's largest city, Sioux Falls, was founded in 1856 and grew around the Big Sioux River. This waterfalls site, surrounded by the 42 acre Falls Park, has always been the center of attention in the city. The falls drops over a 100 feet and averages 7400 gallons a second. This autumn view of the falls catches a Big Sioux River that's lost its punch, not even reaching half its peak rate.
The power of the river was once put to work grinding grain and producing electricity. Today, remnants of the Queen Bee Mill and Sioux Falls Light and Power Company station remain. Giving up on water power, coal fired generators replaced the finicky mill race used to generate hydroelectric power. The power plant was abandoned in 1978, and was eventually converted into today's Falls Overlook Café. The seven story Queen Bee Mill, designed to process over 1500 bushels of grain per day, never reached its potential. A fickle water supply and and an untimely wheat shortage closed the half million dollar mill just after two years of operation in 1883. Converted into a warehouse, the building was later destroyed by fire. Queen Bee's quartzite stone walls, quarried on this site, were knocked down to first story levels. Remnants are still standing, relating the historic story for Falls Park visitors. The park stays in a festive mood throughout the year, featuring farmers markets, the Festival of Cultures, Art Falls Fine Arts, and the Winter Wonderland.
Copyright ©2010 Benjamin Prepelka
All Rights Reserved