Scenic USA - Pennsylvania

Herr's Mill Village
---
---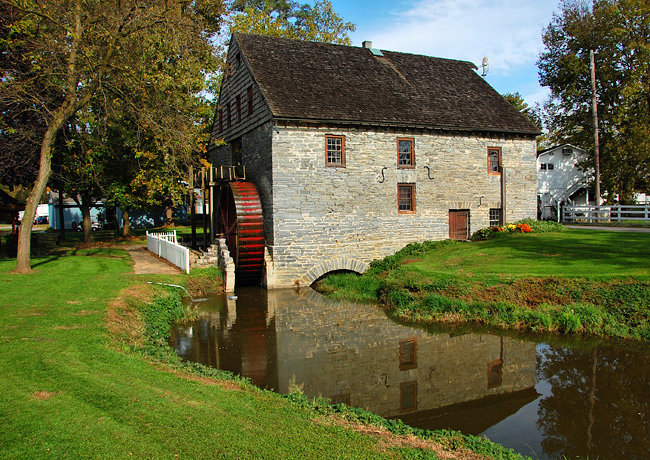 While most settlers reaching America's eastern colonies hailed from England, William Penn offered land ownership and religious freedom to all nations.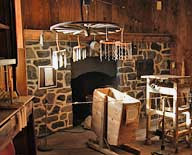 Fleeing religious persecution in Germany, Bishop Hans Herr arrived in Pennsylvania with his family in 1710. Here in Strasburg Borough, the Herr family felt free to follow their Mennonite faith and continue the Herr family lineage in Lancaster County.
   Grandson John Herr, received a patent to 1100 acres of land along Pequea Creek for 110 pounds sterling. By 1730, John had built a two story log cabin and began to construct a grist mill and sawmill along the stream.
Through the years, a small village sprouted up along Pequea Creek.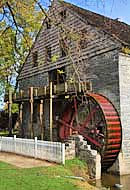 Supporting a general store, blacksmith shop and forge, a winery and distillery, a bridge was needed for local villagers to cross the creek. Herr's Mill Bridge, spanning 180 feet, was built in 1844. Its long span used a double burr arch and was rebuilt in 1875. Bypassed by a concrete bridge, the bridge was almost removed. The last renovations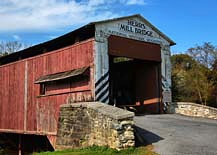 were done in 1972 and 1978, with current hopes to raise the bridge due to area flooding.
   When the mill changed ownership in 1957, Donald Denlinger set his sights on a complete restoration. Stripped of its internal milling equipment, Denlinger looked to the Evergreen millworks, including its giant 3800 pound millstones. Denlinger continued his restoration work on the village buildings, including reconstruction of the log cabin. Tours are conducted of the Amish home while the mill is open for self-tours most every day.

    Area Map
---
| | |
| --- | --- |
| Additional Points of Interest | |
---
Copyright © 2013-17 Benjamin Prepelka
All Rights Reserved