Scenic USA - Pennsylvania
Scenic USA offers a collection of select photographs from a wide variety of historic sites, points of interest, and a large
sampling of America's parklands. Each photo feature is coupled with a brief explanation.
For further detailed information, links to other related sites are provided, but in no means should they be considered an endorsement.
Boone Homestead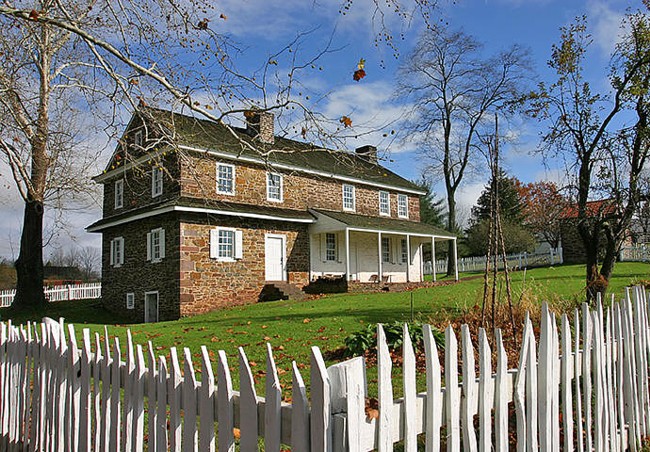 Often saddled with a larger than life persona, tales of Daniel Boone received international attention before his age of 50. One of America's legendary pioneers and backwoodsmen, Boone's life story will always be a mixture of fact and fiction. Long before his death, contemporary poets and authors, using Boone's extraordinary life as a model for their works, found it difficult to disguise their famous subject.
Born on a farm on the fringes of the Pennsylvania wilderness, where he mastered his skills as a hunter and backwoodsmen, young Boone was raised a Quaker. His father, Squire Boone, immigrated to Pennsylvania from England in 1713. Squire Boone married into a family of Quakers, and reared a family of eleven children. Daniel Boone was the sixth child, and spent his first 16 years on the Boone homestead, located near today's Reading, Pennsylvania.
Sited on the largest tract of land administered by the Pennsylvania Historical and Museum Commission, the Boone Homestead follows the three sucessive families that enjoyed life in Olie Valley. Found just north of Birdsboro on Route 422, many of the homestead structures have been rebuilt and restored. The original Boone log cabin was built over a spring. The one and a half story home utilized logs and native stone. The basement was used as a springhouse, providing water, as well as cold storage. A succession of owners followed with expansion plans and floor plan changes, rendering the cabin unrecognizable. Seven 18th century structures, plus period recreations, convey a sense of Colonial Period life at the Boone Homestead.
Copyright ©2011 Benjamin Prepelka
All Rights Reserved