Scenic USA - New Mexico

Trail of the Mountain Spirits
---
---
Photos by Roger Gillette
Inset photos courtesy of the National Park Service
Although the Mogollon culture was spread out over a large section of today's Four Corners region, only their pottery,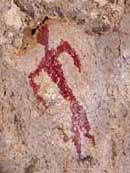 cliff dwellings, pictographs and perhaps their spirits remain. Following New Mexico's Trail of the Mountain Spirits Scenic Byway visitors may explore these 15th century sites of Mogollon and Mimbres cultures, as well as today's charming villages, high mountain peaks, steaming hot springs and the deep greens of the Gila National Forest.
Crossing twice over the Continental Divide, the 93-mile scenic byway winds through the country's first national wilderness area, introduces travelers to historic Pinos Altos and traces the Trail of Mountain Spirits. Set out on a journey to enjoy the beauty of land just as thousands of miners, homesteaders, Indians, Buffalo Soldiers, Spanish explorers and mountain men who walked these lands before us.
Beginning your byway trip in Silver City, head east on Route 152 and follow the same racing route as the grueling cycling Tour of the Gila. First stop is an overlook for the Chino mine, one of the largest open pit copper mines in the world.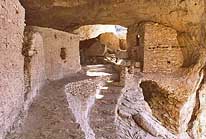 While the beautiful Mimbres Valley and quiet village of San Lorenzo lie ahead, Sapillo Valley, Bear Canyon Lake, Lake Roberts and historic town of Pinos Altos are some more highlights along this byway.
A short spur from the byway loop leads to thermal hot springs near the Gila River and the Gila Cliff Dwellings (Route 15), culminating this tour of Mountain Spirits. Living in simple pit houses at first, their dwellings grew into the nearby cliffs. The 700 year old homes of the Gila Cliff Dwellings National Monument offer a glimpse of the last Mogollon dwellings in the region.

Byway Map
---
More Byway Points of Interest
---
Copyright © 2006-15 Benjamin Prepelka
All Rights Reserved