Scenic USA - West Virginia
Scenic USA offers a collection of select photographs from a wide variety of historic sites, points of interest, and a large
sampling of America's parklands. Each photo feature is coupled with a brief explanation.
For further detailed information, links to other related sites are provided, but in no means should they be considered an endorsement.
Bluestone River Gorge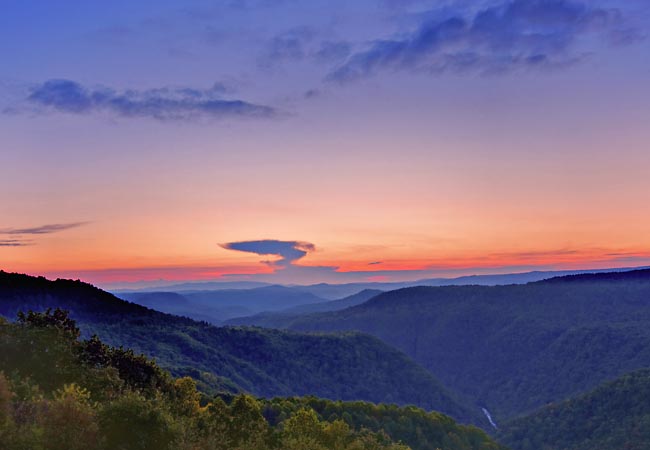 Nearly two-thirds of western West Virginia is covered by the Appalachian Plateau, a rugged territory marked by four steep-walled canyons that slice through the Allegheny Highlands. Bluestone River Gorge is one of these majestic canyonlands, forming a dramatic chasm around the Bluestone National Scenic River. A ten mile stretch of the Bluestone, one of a 150 plus rivers protected by the Wild and Scenic Rivers Act, was established in 1988.
Called the Momongosenka by American Natives, the Bluestone River Gorge doesn't appear much different in this birds-eye-view than days in the prehistoric past when Paleo-Indians hunted and fished along its riverbanks. A closer inspection reveals that this is coal country. All the minable coal in West Virginia is found in the Appalachian Plateau. Nearly all the natural gas and oil reserves also occupy this province. One of the area's largest mining operations, the Kaymoor Mine operated for 63 years, leaving abandoned mines, gob piles, and overburden that still impacts water quality downstream. Slope instability is another attention getter with the National Parks Service.
The Bluestone Turnpike Trail, a hiking route that follows the entire length of this scenic river, is a great way to experience solitude in the gorge. During your adventures, keep in mind that entering old mines can be a dangerous activity. Abandoned mines are hazardous and often sealed to prevent human access. Itís best to stay on this old Indian trail and enjoy the sights along the scenic river.
Copyright ©2011 Benjamin Prepelka
All Rights Reserved