Scenic USA - Ohio
Scenic USA offers a collection of select photographs from a wide variety of attractions, points of interest, historic sites, state and
national parks found throughout the United States. Each photo feature is coupled with a brief explanation.
For further detailed information, links to other related sites are provided.
West Breakwater Light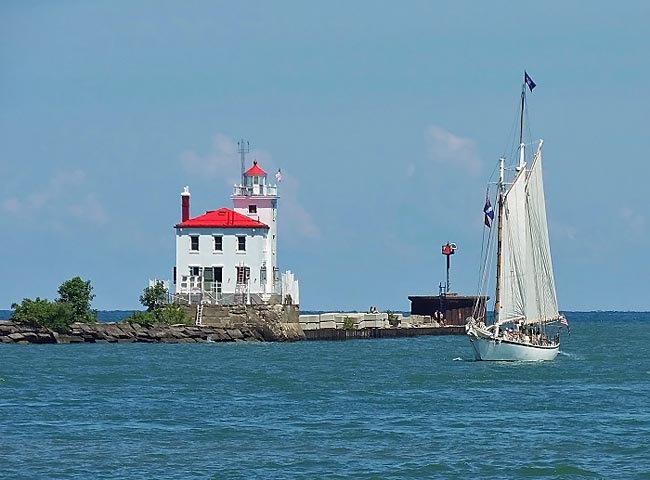 Over the years the amount of maritime traffic on Lake Erie ebbed and peaked like the tide. The entrance at Fairport Harbor saw a considerable increase in lake traffic during the late 1800s as iron ore from Montana's Mesabi Range made its way to the steel mills of Youngstown and Pittsburgh. The original lighthouse that marked the entrance to Fairport Harbor dated back to the steamboat era. Of course the original no longer exists, replaced in 1871. The replacement, with its handsome stone tower, is the site of today's Fairport Harbor Marine Museum and Lighthouse.
Harbor breakwaters, built in the early 1900s, extended the harbor into Lake Erie another mile and a half. Quickly recognizing the need for a navigational beacon at the tip of the breakwater, funds were appropriated in 1917. World War I caused project delays for eight years. The 42 foot tall Fairport Harbor West Breakwater Light, pictured here, came on line in 1925 displaying a white beacon and using an air diaphone fog signal. The lightstation remains operational and is closed to the public. The maritime museum is open most weekends and holidays throughout the summer months.
Copyright ©2009 Benjamin Prepelka
All Rights Reserved