Scenic USA - Pennsylvania

Snyder County Bridge Tour
---
---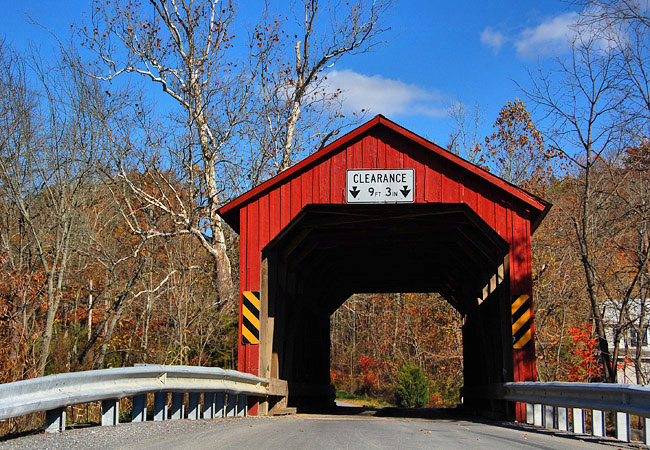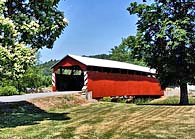 Snyder County's covered bridge tour is a great way to explore a scenic area of Pennsylvania's Susquehanna River Valley. This central area of the state is best known for its quaint small towns, Amish and Old Order Mennonite farms, picturesque rolling hills and country home style restaurants. The bridge tour features five authentic covered bridges built during the late 19th century. All built with graceful Burr arch wooden trusses, these single span bridges cross county creeks and streams, making travel in Snyder County during the last century much easier
Known by multiple names, the North Oriental Covered Bridge (main photo) still supports local traffic as it crosses Mahantango Creek between Snyder and Juniata counties.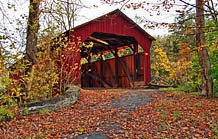 Also called Curry's Corner Bridge, this historic bridge was built in 1908 and is found just north of the town of Oriental.
The Aline Bridge, built in 1884, was bypassed in 1982. Now supporting foot traffic only, this bridge makes a perfect picnic pavilion. Found near Meiserville, the 60 foot bridge is also named after the town.
The Dreese Bridge (Beavertown Bridge), nearly 150 years old, was bypassed in 1979.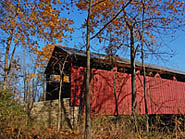 Spanning 103 feet, the bridge was built in 1870 to cross Middle Creek. The bridge was restored in 2001 is found near Middletown and Beavertown.
The Klinepeter Bridge is the longest covered bridge in the county (by just a few feet) and still supports traffic. Vintage 1871, the bridge was moved a few miles to Railroad Street in Beaver Springs and fully restored in 1982.
The Sheaffer Covered Bridge (Meiser's Mill - built 1907) is located on private property and may be possible to see from a distance.

Map and Directions (3MB PDF)
References - Snyder County Bridge Tour

Top right inset: Klinepeter Covered Bridge
Left inset: Dreese or Beavertown Covered Bridge
Botton right inset: Aline or Meiserville Covered Bridge
---
Nearby Points of Interest
---
Copyright © 2013-16 Benjamin Prepelka
All Rights Reserved