Scenic USA - Oregon
Scenic USA offers a collection of select photographs from a wide variety of historic sites, points of interest, and a large
sampling of America's parklands. Each photo feature is coupled with a brief explanation.
For further detailed information, links to other related sites are provided, but in no means should they be considered an endorsement.
Battle Rock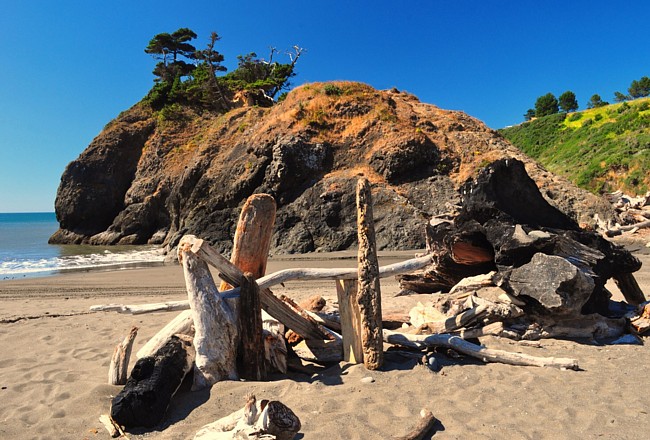 Oregon's coastline is well known for its dramatic headlands, isolated sea stacks, spits and secluded coves. These coastal landforms are incredibly resilient and long-lived, standing against Pacific storms and relentless surf for eons.
One of the prominent seaside features nearby Port Orford in Curry County is an isolated mound called Battle Rock. Although the harbor at Port Orford sat an unprotected, Captain William Tichenor was convinced this area would one day be a bustling port city. Tichenor and his band of settlers first arrived in 1851. While Captain Tichenor headed north to resupply, the nine remaining settlers were attacked by local Quatomah natives. The Europeans took the high ground atop Battle Rock and fought off the local band of warriors. A truce was called and the settlers asked for a two week peace, hoping for Tichenorís return. When time was up, a larger contingent of warriors returned. During the fray the Tututni Quatomah Indian chief was killed. Tichenor's men took advantage of the lull and escaped northward.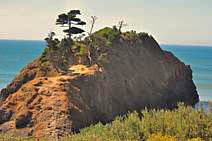 Arriving the following month with an well-armed party of seventy men, Tichenor set his sights on developing the port city that he first envisioned. Fishing and lumbering kept the city active for the next 200 years, although it never achieved the prominence that was hoped for.
Port Orford, named for the Earl of Orford, is home to Battle Rock Park. Just to the west, visitors will also find a historic Coast Guard lifeboat station that occupies Port Orford Heads. Here at the Port Orford Heads State Park stands a well preserved two story crew quarters and office building, now converted into a maritime museum.
Copyright ©2011 Benjamin Prepelka
All Rights Reserved