Scenic USA - Oklahoma
Scenic USA offers a collection of select photographs from a wide variety of attractions, points of interest, historic sites, state parks and
national parks found throughout the United States. Each photo feature is coupled with a brief explanation.
For further detailed information, links to other related sites are provided.
Philbrook Gardens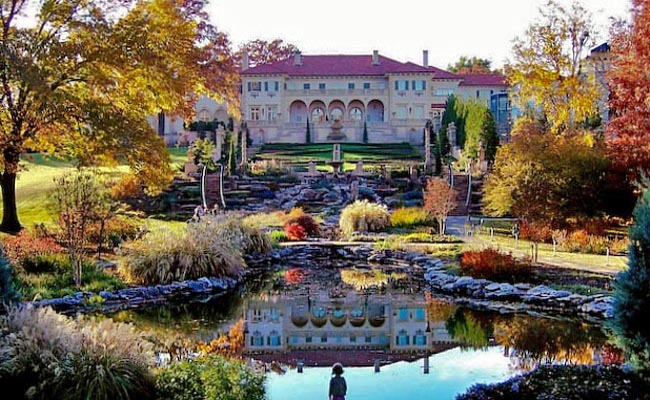 Tulsa's Philbrook Museum of Art not only houses a world-class collection of art, but is surrounded by 23 acres of exquisite formal and informal gardens. Inspired by Villa Lante, an Italian country estate near Rome, the Philbrook Estate began with a collaborative effort of architect and landscape designer. Following strict geometric design, the balustrade walk, gated garden, grotto and mirror pond, gracefully introduces guests to Villa Philbrook.
Fresh from a major renovation in 2004, many of the new garden additions employ native Oklahoma plants. This botanical treasure continues in the original Italianate motif, adding meditative niches, a sculpture walk, and complementary wrought iron accents.
Built by oil magnate Waite Phillips, the marvelous villa was eventually conveyed to the city. Today's Tulsa guests are invited to take the walking tour of the garden or enjoy a self-guided audio tour. The gardens offer a variety of features, including pleasant pathways and bridges, rock gardens, waterfalls and the Westby Sculpture Walk. The museum of art (free admission the second Saturday of each month) is often overshadowed by these beautiful gardens.
Copyright ©2010 Benjamin Prepelka
All Rights Reserved