Scenic USA - New Mexico

Santa Cruz Catholic Church
---
---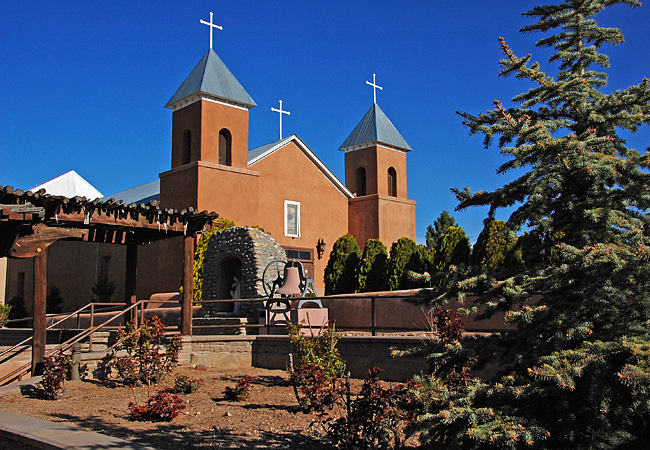 Now surrounded by the Santa Fe metropolitan area, Santa Cruz was once 25 miles from the original Spanish stronghold. Lying in the Galisteo Basin and along the Santa Cruz River Valley, this mile high village was once inhabited by Tewa (speaking) Pueblo Indians. The Spanish arrived in 1598 only to be forced out during successive Indian revolts. By 1696 Governor Don Diego De Vargas established a new Spanish settlement for settlers from Mexico City.
   It's unknown when the initial church in Santa Cruz was built, but the first baptism was recorded in 1710. The Santa Cruz Church that you see today was built between 1733 and 1748 to replace the original, reported to be beyond repair.
   Despite the turbulent centuries that followed the church at Santa Cruz continued to maintain its traditions and serve a dedicated congregation, enduring revolts, rebellions and American occupation.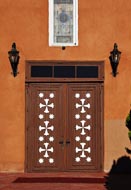 Here in New Mexico it was commonplace that settlers clustered their homes around the church to form a plaza. A defensive approach to a series of Indian incursions, the plaza in Santa Cruz de la Canada lasted well into the 19th century. Once the largest and most impressive church in New Mexico, the Holy Cross Parish Church remains in remarkable condition. Visitors will appreciate some of the oldest Spanish Colonial artwork on display. Its altar screen is another colorful piece attributed to the Laguna santero, probably a provincial artist from southern New Spain. Dated to 1795, the screen was repainted sometime during the 19th century. Removing the second layer of paint added more challenges to the already painstaking restoration which was completed in 1995. The church is open to visitors from 9 am to 4 pm weekday with a break for lunch.

    Area Map
---
Nearby Points of Interest
---
Copyright © 2013-16 Benjamin Prepelka
All Rights Reserved