Scenic USA - South Carolina

Falling Waters Scenic Byway
---
---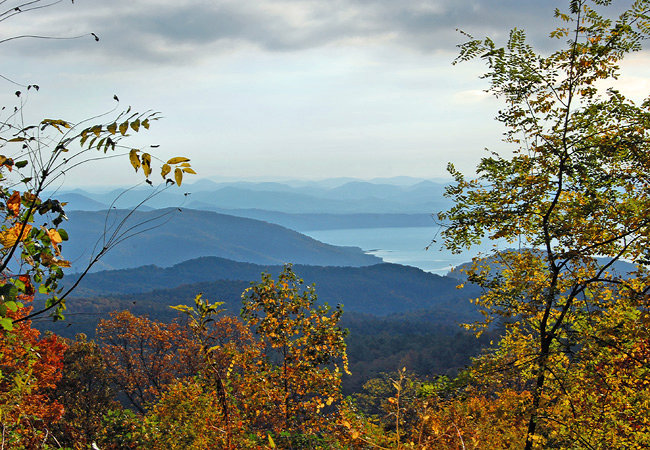 If you're headed to North Carolina's Whitewater Falls, one of the tallest waterfalls in the east,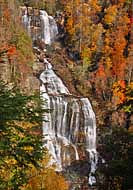 there's a good chance you'll discover the Oscar Wigington Memorial Highway, a spur of the Falling Waters Scenic Byway. A short connector route between SC-107 and 103, the memorial highway offers a fantastic overlook where bird's-eye-views look out over Lake Jocassee and South Carolina's 2000 foot high Blue Wall.
   In a geological sense, the Blue Ridge escarpment marks the southern end of the Blue Ridge Mountains. For those that love the great outdoors, i.e. hikers, sightseers, backpackers and horseback riders, this is one of those scenic areas that call for a return trip time after time. And don't believe for one moment that the state and wilderness preservationists haven't taken notice. Here you find over a dozen state parks, two scenic byways, a variety of national forest campgrounds, and more than a dozen heritage and wilderness preserves.
   Tinted with an ever-present blue haze, this mountainous region follows the North and South Carolina state line and drops in elevation by 2000 feet in less than half a mile.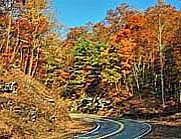 A series of steep, rugged gorges make up the Jocassee Gorges wilderness area. The area's Saluda, Eastatoe, Bearcamp, Toxaway, Horsepasture, Laurel Fork, Whitewater, Devils Fork and Chattooga rivers and streams have created some of the most dramatic topography in the East. The area also features one of the largest concentrations of waterfalls in the United States. Four of these rivers, the Toxaway, Horsepasture, Whitewater and Thompson, join together to form the crystal clear Lake Jocassee. Once home to the Cherokee Nation, the Jocassee Dam was built in 1973 and remnants of towns and villages along these rivers lie submerged under lake waters.
   From a South Carolina perspective, the Falling Waters Scenic Byway has been dubbed the gateway to the mountains, a land where the foothills butt up to a rugged mountain wall. Beginning at Walhalla in Oconee County, the 13 mile byway follows SC 107 on a northward journey, passing Issaqueena Falls, the Stumphouse Mountain Tunnel and the Oconee State Park. Oconee Park, one of South Carolina's little gems, is centered on a 20 acre lake, fed by cool mountain streams.
Geared toward family fun, the park staff acquaints its visitors with the basics of clogging and square dancing, while naturalists lead the way on the park's nature trails.
   Heading northward from Oconee State Park, the byway passes a dozen highlights, including the heavily wooded Sumter Forest, access to the 85 mile Foothills Trail, Cherry Hill Campground, Moody Springs Rec Area, Walhalla State Fish Hatchery, the East Fork of the Chattooga River, Ellicott Rock Wilderness and the Oscar Wigington Overlook. Across the border, don't miss North Carolina's byway overlook viewpoints and Whitewater Falls, one of the highest falls in east of the Mississippi.

    Byway Map
---
Nearby Points of Interest
---
Copyright © 2013-16 Benjamin Prepelka
All Rights Reserved