Scenic USA - Pennsylvania

Grand View Scenic Byway
---
---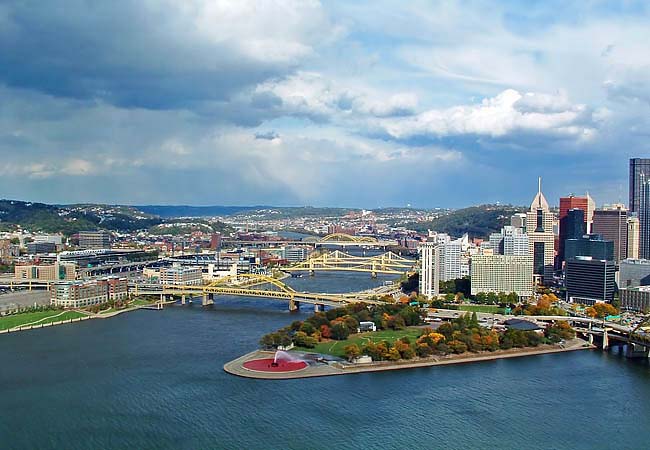 The city of Pittsburgh is divided up by three rivers, the Allegheny, Monongahela and the Ohio.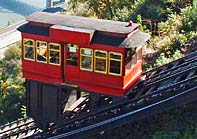 Along with these dissecting water-ways comes one of the city's more recent nicknames, the City of Bridges. Often compared with Venice, Italy, Pittsburgh eclipses the famous European city's total of 409 with a bridge count of 446. The town's first wooden bridges have long since been replaced with a mix of steel bridge types, including suspension, cantilever and arch. The majority of these spans are painted gold, matching the city's official gold and black colors, following the lead of its sports teams.
The city wasn't always the Steel City or the City of Bridges, if fact its old nickname wasn't very appealing. Perhaps one of the dirtiest cities in America, Pittsburgh was well known in the East as the Smokey City. A huge coal seam was discovered along the south bank of the Monongahela River, and powered the city for over a century. Because of its location on important waterways, coal deposits and a willing work force, the area grew into a leader of iron and steel, further increasing the city's air pollution. The smoke was so bad city streets were illuminated by street light during daylight hours. When David L. Lawrence became mayor in 1946 one of his promises was to clean up the city. Dubbed Renaissance I, Lawrence embarked on a 20-year redevelopment effort, enforcing air pollution standards, cleaning the city's buildings and developing a new sewage treatment plant. While other cities were experiencing deterioration, Pittsburgh was on the rise. Even though the 1980s signaled a collapse of the steel industry, technology, medicine and research industries fueled its resurgence, all powered with clean energy from America's first atomic power plant.
Honored as America's Most Livable City in 2007, the metropolis continues to make the best places to live list.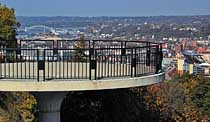 Mount Washington, named in honor of America's first president, is one of the best places to view this remarkable city. At age 22, young George Washington made his way through the wilderness with a small force of Virginia militiamen with plans to capture Fort Duquesne. Heavily manned by the French, Washington retreated about an hour away. Here at Fort Necessity, Washington was met with a large force of French and Indian troops and was forced to surrender. This small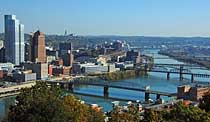 skirmish was the first battle of the French and Indian War, and the only defeat ever suffered by George Washington.
This city scene was taken from the Grand View Scenic Byway, a three mile byway that skips along the cliff edges of Mount Washington. Overlooks are spaced out along Grandview Avenue and provide birds-eye-views from many vantage points. Not only is the Golden Triangle stacked with dozens of skyscrapers, the surrounding cliffs are covered in steep city streets, homes and businesses. Featuring more gold and black, two new stadiums house the MLB's Pirates and NFL's Steelers.

Area Map
Grand View Scenic Byway Park Map
---
| | |
| --- | --- |
| Additional Points of Interest | |
---
Copyright © 2007-16 Benjamin Prepelka
All Rights Reserved