Scenic USA - Ohio
Scenic USA offers a collection of select photographs from a wide variety of historic sites, points of interest, and a large
sampling of America's parklands. Each photo feature is coupled with a brief explanation.
For further detailed information, links to other related sites are provided, but in no means should they be considered an endorsement.
Fairport Harbor
Positioned on the shores of Lake Erie just east of Cleveland and Mentor, the well named Fairport Harbor has seen a lot of activity over the last century. Located at the mouth of Grand River, Fairport Harbor was key to transporting slaves to freedom in Canada during the mid 1800s. After the Civil War, the harbor began receiving tons and tons of iron ore shipments. Brought in from the Mesabi Range in Montana, the ore was then moved to steel mills in Pittsburgh and Youngstown.
Today the Fairport Harbor is still an important link in commerce, moving limestone, sand, gravel and salt exports. Ohio is one of the top producers in salt, where plentiful salt beds under Lake Erie reach depths of 2000 feet.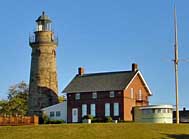 The first lighthouse to mark Grand River was completed in 1825. Featuring a 30 foot tall tower, octagonal lantern room and two-story light-keepers station, the shoreline lighthouse was replaced in 1871. Looking for more harbor protection, the construction of a mile and a half breakwater rendered the shore-based Fairport Lighthouse (inset) ineffective.
The West Breakwater Light was completed in 1925, replacing the original light-station. Destined to be razed, Fairport citizens rallied to save the old lighthouse. Since 1945, the Old Fairport Harbor Light-station has doubled as a maritime museum, with an outstanding collection of maritime equipment, photos and displays. The original 3rd order Fresnel lens is also on display, as well as models of lake-going freighters and ore boats.
The Fairport Harbor West Breakwater Lighthouse is not open for public tours, but itís possible to walk the mile and a half breakwater to get a close-up view. From the Mentor Headlands Beach, one of Cleveland's popular lakeshore areas, lighthouse fans can get a great view of the breakwater light.
Copyright ©2011 Benjamin Prepelka
All Rights Reserved