Scenic USA - Kentucky

Mountain HomePlace Museum
---
---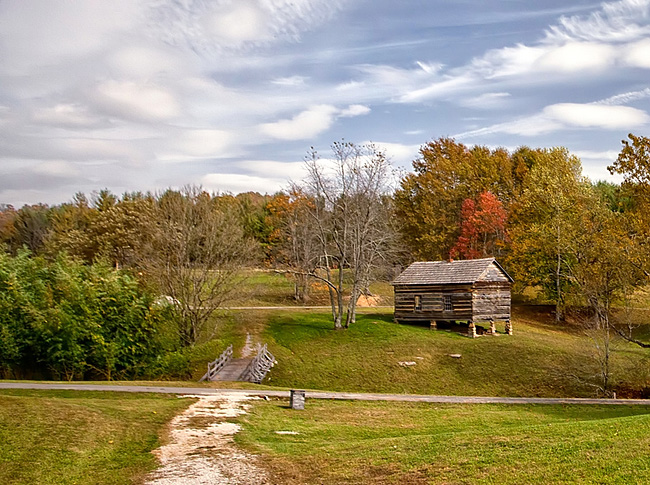 Located in Kentucky's eastern Appalachians Region and Johnson County, Paintsville Lake State Park encompasses over 12,000 acres.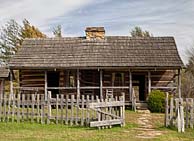 One of its major attractions is an 1140 acre lake, made up of quiet coves and surrounded by steep cliffs and wooded hills. The other attraction is a living history museum called Mountain HomePlace.
Located nearby the lake in an agreement with the Army Corps of Engineers, the Mountain HomePlace represents a working farm of the 1850s era. Proud of its Kentucky Appalachian heritage, the museum hopes to educate the public of rural living over 100 years ago and dispel stereotypes of mountain people.
Made up of a local farmhouse, crib barn, blacksmith shop, one room schoolhouse (main photo) and a church, the buildings range in age from the mid 1800s to the early 1900s. Following simple designs of folk architecture, the double pen cabin (inset) was most likely built around 1860 and was home for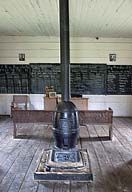 David McKenzie and his family.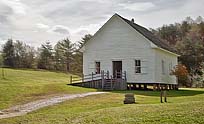 The crib barn was essential for storage, keeping the livestock and family members fed throughout the winter. Warmed by a pot belly stove (inset), the one-room schoolhouse was built of hand-hewn logs. Two rows of benches, with work tables attached, face a wall of blackboards and the teacherís desk.
Other buildings include the old 1843 Fish Trap United Baptist Church (inset), built of logs and clad in weatherboard. The original Lemaster house was converted into a blacksmith shop, depicting an essential part of rural living. Tour guides and park workers wear traditional 19th century attire and conduct tours from April 1st through October.

Area Map
---
Nearby Points of Interest
---
Copyright © 2013-156 Benjamin Prepelka
All Rights Reserved