Scenic USA - Colorado
Scenic USA offers a collection of select photographs from a wide variety of attractions, points of interest, historic sites, state and
national parks found throughout the United States. Each photo feature is coupled with a brief explanation.
For further detailed information, links to other related sites are provided.
Pawnee Buttes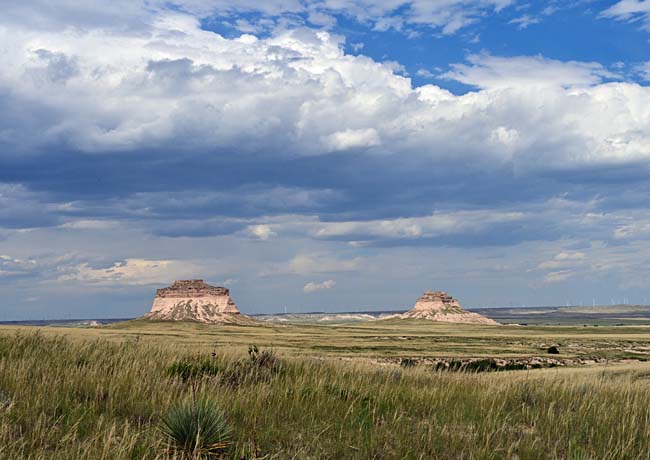 The Dakota states appear to have a lock on America's most famous badlands, located in four national park areas. The White River Badlands (White River Group), not necessarily a familiar travel destinations, cover a broad area within the states of Colorado, Wyoming and Nebraska, as well as South Dakota. These extensive badlands, blanketed in short grass and a jumble of eroded canyons and rivulets, are found in large patches east of the Rocky Mountains.
Although Colorado is nicknamed the Centennial State, joining the Union in 1876, its truer image is directly connected to the majestic Rockies. The overlooked eastern plains, taking in nearly a third of the state, are represented in this Picture of the Day. Here the Pawnee Buttes rise up 300 feet from the Colorado piedmont. The White River Badland buttes are part of the Brule formation, found to be loaded with ancient fossils. These distinctive buttes contain a rare glimpse of life during the Oligocene Epoch, dating back 30 million years. Early settlers called this region the Great American Desert. Today, the 300,000 acre Pawnee Buttes National Grassland has been rediscovered and found full of wildlife.
Copyright © 2009 Benjamin Prepelka
All Rights Reserved