Scenic USA - Maine
Scenic USA offers a collection of select photographs from a wide variety of attractions, points of interest, historic sites, state and
national parks found throughout the United States. Each photo feature is coupled with a brief explanation.
For further detailed information, links to other related sites are provided.
West Quoddy Lighthouse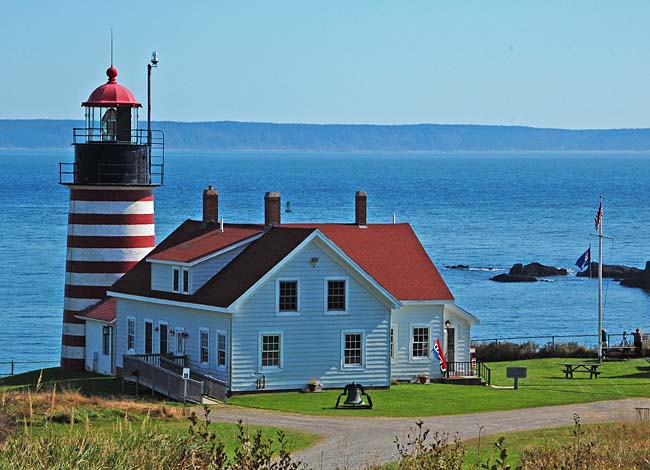 Geographically, Quoddy Head is the eastern most point of land in the United States. Quoddy Head State Park, some 530 acres, takes up the Downeast Region headland. Purchased by the state of Maine in 1962, the park is now cut with five miles of trails which wind among the forestland, bogs and a rugged coastline. The main feature of the park is the 150 year old West Quoddy Lighthouse. The distinctive red and white striped tower, not only was used for daylight navigation, but is a marvelous subject for artists and photographers. The original lighthouse at this location dates back to the Jefferson era, when the 1808 beacon first warned mariners of the dangerous ledges and Sail Rock at the entrance to Quoddy Narrows. The brick structure was renovated in 1890 and the light was electrified. The original beacon was fueled with sperm whale oil, and later converted to kerosene. The light keeper's quarters serves as a visitor center and museum, staffed with a cadre of knowledgeable volunteers.
Copyright ©2008 Benjamin Prepelka
All Rights Reserved