Scenic USA - Washington

Olympic National Park
---
---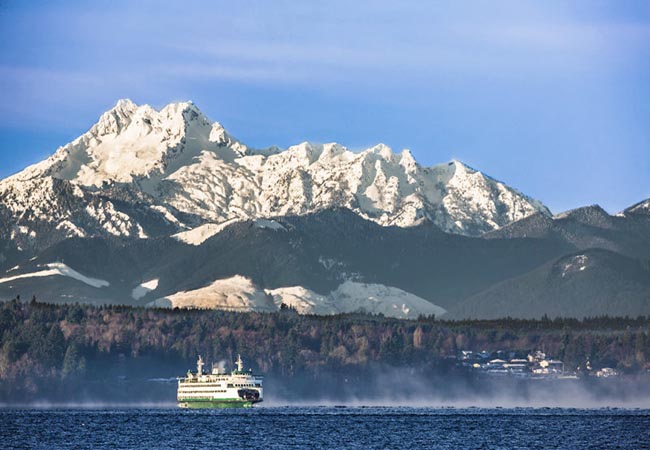 Made up of a huge mountainous peninsula and surrounded by Washington State's signature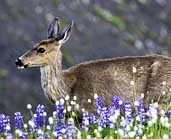 coastline, Olympic National Park encompasses one of the most remote mountain regions in the contiguous United States. The tallest peak, Mount Olympus, was named by explorer John Meares in 1788 and lends its name to the entire mountain range and peninsula. When not hidden in a layer of clouds, visitors find the mountains quickly descending to the shoreline, highlighting its dramatic peaks. A handful of roads lead in from the coast and tempt visitors to explore more,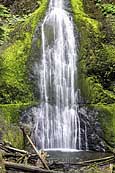 but the remaining 95 percent of the park is deemed wilderness and only accessed by a few back-country trails.
   Named a national monument in 1905 by President Theodore Roosevelt, Olympic was converted to a national park by President F. D. Roosevelt. The Olympic Range is gripped in an ever-present stratum of moisture, falling in the form of rain and snow. Run-off has carved out deep river valleys, accentuated mountain ridges and created hundreds of glaciers. Glacier melt is an important part of the ecosystem, providing an essential component for aquatic life. Comparison photographs offer a sobering fact that glaciers are in full retreat, shrinking almost 35 percent over the last 30 years.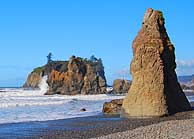 It's these mountain streams, waterfalls and ice-fields that attract the most attention on the north side of the park. Here, four main roads lead to Deer Park, Hurricane Ridge, Elwha Valley and Sol duc Valley. To the west, a very different Olympic National Park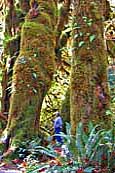 emerges in the coastal plain. A stark contrast from the high country's mountain meadows, snow-covered peaks and alpine lakes, coastal rains create a moisture-laden forest of moss-covered trees, lacey ferns and delicate wildflowers. Here in the Hoh Rain Forest visitors are dwarfed by giant-sized trees,mainly Douglas fir, western hemlock, Sitka spruce and red cedar. Towering trees, many over 500 years old, create a dense canopy that filters light from the forest floor and yields a variety of shade tolerant plants.
   Out on the coast a separate strip of land stretches 60 miles from Shi-Shi Beach in the north to the Queets River in the south. Three main roads allow visitors easy access to Cape Alva, Rialto Beach, Ruby Beach and Kalaloch. Sea stacks, towering headlands and long stretches of seaside wilderness highlight the coastal region.

    Area Map
    Park Maps
---
| | |
| --- | --- |
| Additional Points of Interest | |
---
Copyright © 2006-16 Benjamin Prepelka
All Rights Reserved