Scenic USA - Utah

Balanced Rock
---
---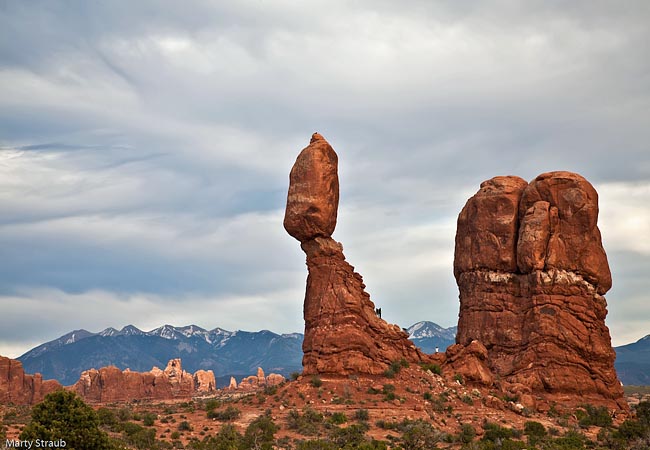 Arches National Park, one of Utah's most popular parklands,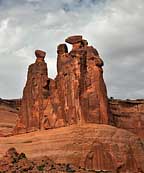 is made up of a fascinating collection of rock art, acres upon acres of slickrock and the world's largest concentration of natural arches. Created by various forms of weathering and erosion, these natural arches draw visitors from around the globe. But it's not just arches that create the park's intrigue, as seen here in this gravity defying roadside feature.
   Balanced Rock, a natural wonder perched on a slanted pedestal, takes up as much space as three school buses. Standing about 128 feet high, Balanced Rock is one of many of the park attractions, but its easy access boosts it popularity. A short, level loop trail circles the rock and allows visitors to view this spectacle from any angle. Similar to most rock formations seen in Arches National Park, Balanced Rock and its sandstone pedestal is colored by a rich red iron oxide.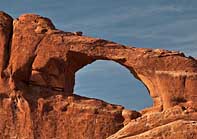 Sandstone has varying degrees of hardness and is eroded away at different rates. A smaller balanced rock, called Chip off the Old Block, once stood beside the Balanced Rock but fell during the winter of 1975-76.
   One powerful force of erosion is frost wedging. This phenomenon begins when moisture collects in small cracks of rock joints and crevices. Most materials shrink when chilled, but water has an unusual property, it expands when frozen. The moisture frozen between the rock creates a tremendous wedging force, causing the rock to separate further. Mid latitude daily freeze and thaw cycles slowly chip away at the rock layers, creating much of the rock art here in the park.

    Area Map
    Park Map
---
| | |
| --- | --- |
| Additional Points of Interest | |
---
Copyright © 2006-17 Benjamin Prepelka
All Rights Reserved