Scenic USA - California
Scenic USA offers a collection of select photographs from a wide variety of historic sites, points of interest, and a large
sampling of America's parklands. Each photo feature is coupled with a brief explanation.
For further detailed information, links to other related sites are provided, but in no means should they be considered an endorsement.
Evolution Creek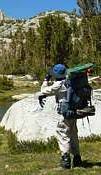 With its headwaters beginning in the Evolution Basin, specifically Wanda Lake, Evolution Creek is one of the many outstanding features in King's Canyon National Park. Here at the halfway point on the John Muir Trail (JMT), backcountry hikers heading south say goodbye to the John Muir Wilderness and enter the northeast corner of Kings Canyon.
Evolution Creek descends through a heavily glaciated land, highlighted with well polished granite features, hundreds of alpine lakes and tarns, and a string of high mountain peaks. These major mountain peaks were named in 1895 by Theodore Solomons, a Stanford mathematics professor. Solomon pioneered the trail from Yosemite to Mount Whitney, later named for conservationist John Muir. Solomon thought that the great evolutionists, Darwin, Fiske, Haeckel, Wallace, Huxley and Spencer,
would be best immortalized in this spectacular area of the High Sierra. Two other scientists, Lamarck and Mendel, were later added in this string of revolutionary names.
Days from civilization, this section of the JMT is always spoken in superlatives. Up from a beautiful McClure Meadow to an enchanting Evolution Basin, and climbing still higher to Muir Pass and the Muir Hut, the trail pounding vagabonds bask in this high altitude setting. As the trail miles dwindle from triple to double digits, the JMT hikers must avoid thoughts of home, and stay focused on the splendid moments of this day.
Copyright ©2011 Benjamin Prepelka
All Rights Reserved