Scenic USA - Montana
Scenic USA offers a collection of select photographs from a wide variety of historic sites, points of interest, and a large
sampling of America's parklands. Each photo feature is coupled with a brief explanation.
For further detailed information, links to other related sites are provided, but in no means should they be considered an endorsement.
Devils Slide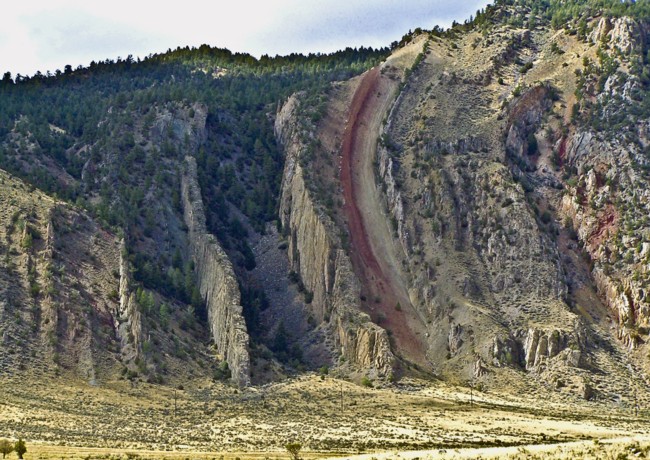 Unusual to say the least, this near vertical rock slide is located in the Yellowstone River Valley. Standing at a height of 125 feet, the Devils Slide was named by the Washburn-Langford-Doane Expedition in 1871. Thought to be made of cinnabar, a red mercury ore, cinnabar is still used in naming the mountain surrounding the Devils Slide.
Today, geologists have not only identified the iron-impregnated rock of this odd slide, but traced its underlying cause. Located between the Gallatin Mountains and the Absaroka Range, this area of the continent was once a huge low-lying inland sea. Armed with a great understanding of plate tectonics, geologists have described a gradual uplift of a broad tract of this Cretaceous Period marine sediment, a layered area that was well compressed over time. Part of the Rockies chain, these vertical beds occurred all along the Gardiner Thrust Fault, from Devils Slide to a point near Mount Everts.
This section of the Beartooth Mountains is just a part of the dramatic Beartooth and Yellowstone scenery. One can only imagine these imposing mountain ranges before they were reshaped and worn away by erosion for millions of years.
Copyright ©2011 Benjamin Prepelka
All Rights Reserved