Scenic USA - Hawaii
Scenic USA offers a collection of select photographs from a wide variety of historic sites, points of interest, and a large
sampling of America's parklands. Each photo feature is coupled with a brief explanation.
For further detailed information, links to other related sites are provided, but in no means should they be considered an endorsement.
'Ahihi-Kina'u Natural Area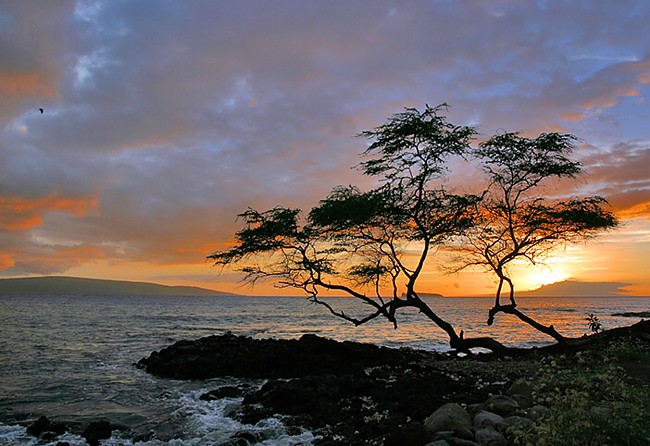 Today, Hawaii's Department of Land and Natural Resources (DLNR) oversees more than 100,000 acres, parceled out in 19 reserves throughout its islands. The Natural Area Reserve designation issues the strictest level of protection for Hawaii's fragile lands. These areas, with a NAR's oversight, make up only 11 percent of Hawaii's forest preserves and wildlife sanctuaries.
Pictured here, in this coastal Hawaiian sunset view, is a section of 'Ahihi-kina'u Natural Area Reserve. This small preserve, covering a little more than 2000 acres, protects a young coastal lava field and one of Maui's main coral reefs. Protecting this area and allowing access is always a difficult balancing act. A growing number of concerns forced closure in portions of this natural area, allowing more time to establish a long-term management plan.
These rugged lava fields, part of the Southwest Rift Zone, have not seen any activity within the last 500 years. Lava tubes and depressions called anchialine pools, form unique coastal environments for a diverse collection of shrimp and stilt. Here, preserve trails were poorly marked, and with Maui's ever-increasing population, human impact became very apparent. Along with environmental woes, this preserve also included many cultural and archaeological sites. Restricting the public to this area will never be popular, but through education and closer oversight, this unique area may be spared.
Copyright ©2011 Benjamin Prepelka
All Rights Reserved